2nd Guided walk in Flowering time in the land of the Ordal Peach
This event is over.
Guided walk through the Land of the Peach of Ordal to contemplate the spectacle of flowering!
The splendor of the flowering peach groves is exceptionally beautiful, a spectacle that tinges the peach trees on the terraced slopes of Ordal pink. Its color and its smell will welcome the visitor, where they will enjoy a different and very characteristic landscape of the municipality of Subirats.
The walk to contemplate the spectacle of the blossoming of the peach trees is pleasantly accomplished and not very complex. Besides, the visitors will discover Can Rovira street and will talk with the Ordal peach growers about the tasks of cultivating the peach trees.
There will also be a stop at a winery along the route, which on this occasion will be the Coma Romà winery in Sant Pau d'Ordal.
Meeting point: Subirats Square in Sant Pau d'Ordal, in front of the Ordal peach sculpture.
Start of the tour: At 10:30 a.m.
Duration of the activity: 2 hours and 15 min.
Price: 5 euros. Includes: Local guide and a tasting at the Coma Romà winery, organic wines from Sant Pau d'Ordal.
Distance of the route: approximately 4.5 kilometers.
Difficulty: Low-medium. It is recommended to wear suitable footwear and water.
We wait for you!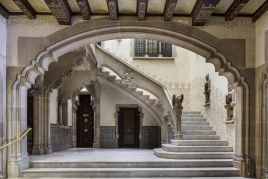 28/03/2023 ...