Restaurant Windsor Barcelona
Carrer Còrsega, 286
Barcelona
Contact
info@restaurantwindsor.com
The Windsor restaurant is a benchmark of contemporary Catalan cuisine that sublimates the local product and combines tradition and modernity. A fresh, tasty and healthy Catalan cuisine.
Windsor is the setting for the task carried out by a young team of professionals who, with experience and enthusiasm, draw day by day a proposal that distinguishes them within the city of Barcelona and Catalan gastronomy. Since 1996 they have evolved a way of understanding the kitchen and the room service.
Menu and menus
Windsor has a complete, panoramic and exquisite menu, based on an updated Catalan recipes. A menu that includes rice, fish and seafood from the best fish markets and always with the best seasonal product. It also includes tapas and half portions of the dishes on the menu to offer more flexibility to diners.
In Windsor you can enjoy different types of menus: the market menus, at noon and at a competitive price, are renewed every week. Group menus are ideal and versatile to celebrate from a birthday to a work meeting.
You can find information about the menu, menus and menus for groups on the Windsor website.
Spaces
Windsor is located in a unique and stately place: the ground floor of a modernist building on Corsica Street, a central location but at the same time quiet. Everything is designed to create an exquisite atmosphere that is breathed in the various spaces of the restaurant with details such as centennial lights, ceilings with reliefs and original moldings, soft music, works of art hanging on the walls, fresh flowers that They welcome customers.
Windsor hosts one of the most charming, serene and pleasant garden terraces in the center of Barcelona. A small oasis, ideal to enjoy a relaxed meal or a long outdoor picnic. This space is available both in winter and in summer, thanks to its retractable roof, which will offer protection if time demands it.
The elegant and pleasant bar is the ideal place to enjoy a drink after work, a break with friends, a moment of calm before or after dinner... Your team will be happy to serve you the combination or the most adequate at every moment.
We consider our winery a very important part of our project. A large presence of local wines combined with others from around the world make up our wine proposal: more than 450 selected references with personality and own criteria. With the help of your sommeliers, you will always find the feeling you are looking for.
The spaces are versatile. They can host intimate evenings, petit committee meetings or celebrations of up to 140 people. Lounges with high ceilings, spectacular lights and modernist moldings, but also freshness, vegetation and open air in the interior garden. Simultaneous projections, public address service, cocktail-style menus to enhance networking and better coordination will make your event a resounding success, regardless of its magnitude.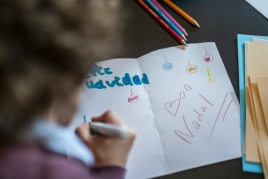 08/12/2023 ...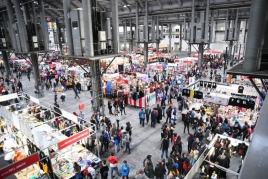 07/12/2023 - 10/12/2023