Pirineu en Boca Barcelona
C. Girona, 17-19 baixos
Barcelona
Contact
info@pirineuenboca.com
Pirineo in Boca was born in March 2015 as the result of the union of two dreams: to offer people who live in the city, like us, the possibility of buying meat of confidence and quality; and also support the small, but exceptional, producers of the Pyrenees that we have been getting to know from our trips in the mountains.
Ours is a multifunctional space: we are butchery-charcuterie, restaurant, shop, take-away and an exhibition space of Romanesque art. We are a platform of the Pyrenees in Barcelona.
We have high mountain meats that provide us directly to farmers in each area of ​​the Pyrenees. We always have different kinds of meats from the different native breeds or adapted to the valleys and peaks of the Pyrenees.
We also offer both for consumption in the restaurant and for a large selection of red, white, sweet, dry and cava wines from all the appellations of origin of the Pyrenees: Somontano, Costers del Segre, Empordà, Navarra, Côtes du Roussillon, Corbier, Fitou, Minervois, coteaux du Languedoc, Clairette du Languedoc, Costières de Nimes, Blanquette de Limoux.
We also propose the sweet natural wines of Roussillon, Banyuls, Rivesaltes, and Muscat are appreciated in France, not only as dessert wines, but also as appetizers and to accompany the foie gras, melon and blue cheeses.
The typical liquors of each area: ratafía, herbal liqueur, pacharán, aguardiente, agua de nodo, casis liquor, liquor de granhons
We have an extensive menu with tapas, dishes, meat and fish dishes with three side dishes and salad or cream of vegetables.
You can also choose any product from the butcher, charcuterie and the grill section and we cook and prepare it to serve it in our tasting area.
We also have menus for groups or celebrations and dates.
We continually travel the mountain range and contact craftsmen who provide us with new products for our gastronomic space and shop.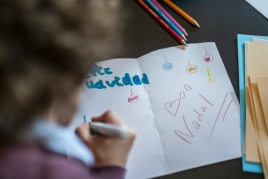 06/12/2023 ...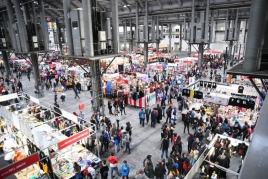 07/12/2023 - 10/12/2023