Monestir de Sant Salvi Santa Coloma de Farners
Contact
info@monestirsantsalvi.com
The Monastery of San Salvi, is a Franciscan convent dating from 1282 located on a hill at the foot of Montseny.
Recently remodeled, it offers all necessary services for celebrations and stays of all types and has a pool with hot tub, wifi, chill-out area, bar, lounge, function rooms, parking, en suite rooms, cottages, large outdoor spaces...
A weekend with family and friends, celebrating a wedding, business meeting, family reunion, birthday, wedding or communion in such a unique place that turns any event magical and unrepeatable.
History
Franciscan monastery founded on an ancient chapel first mentioned in 1282. It was founded in 1690 by Francisco de Bournonville, Marquis of Rupit and master of Santa Coloma, and?? was active until 1822. Later become a large farmhouse. The monastery was rebuilt in the eighteenth century, when it grew to eighteen religious.
The church was rebuilt in 1801 and is a simple and austere building a ship topped with semicircular apse and two side chapels on each side. It has a bell tower with two eyes. Beside him is a cloister, around which were the cells of the monks.
Environment
A monastery surrounded by the spectacular setting of the Montseny Natural Park.
Mediterranean evergreen forests, warm summers and mild winters. Cork oaks, pines and scrub with the spectacle of encinares Chestnut Valley and surrounding pine forests, some forests have remained in a state of continuous rejuvenation.
Unique flora and fauna, from the blackcap to the long-tailed lizard that lives in streams of clean, fresh water and full of life...
For short walks you will find an entire circuit marked trails, hiking trails, mountain biking and more adventurous can canoe down the rivers of the park, launched from tirolinas...
celebrations
Monastery facilities have all needed to adapt to all kinds of events features.
The multipurpose room can from exposure to product presentation or culinary events such as wine pairings, tastings, workshops, etc.
Have large screens, projectors, wi-fi, fixed cameras, drones camera and whatever is necessary so that the goal is reached with guarantees, but what we are safer is that the environment in which they celebrate these events is unique.
Wedding
More than a decade dedicated to realizing the dream of a perfect wedding.
The unique environment of the Monastery of San Salvi will make your wedding unforgettable. A day or so magical, different, funny, personal and original week. We open all year and we can make any day celebrations.
We work with the best catering services in the area (some with Michelin star) that will address the needs of celebration, decoration, household, personal, tables and special menus for allergy or celiac disease for more information consult the list of contributors.
We adapt the budget and services to make a wedding "custom". Everything you want and as you want.
The Monastery of San Salvi is rented whole and not rooms. The price is subject to different seasons, low, medium or high.
Registration Number in Tourism Register of Catalonia: PG-000849
11/08/2022 - 14/08/2022 ...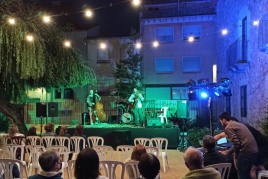 18/08/2022 ...