Route for adventure parks in Catalonia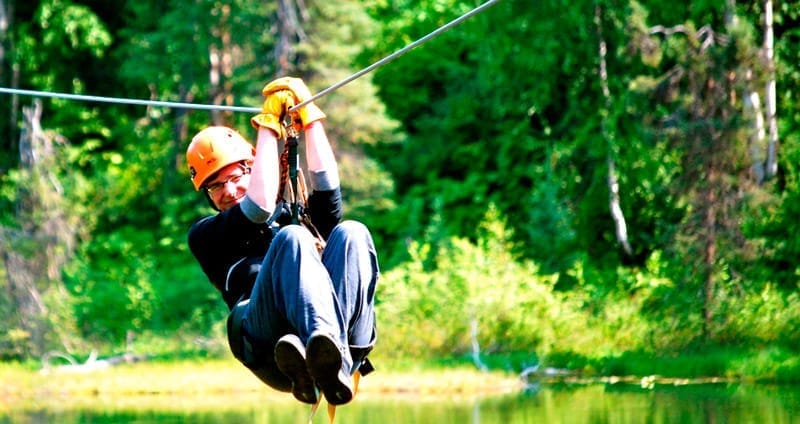 Jumping from one tree to another, fly like a bird, feel the air and caress the cheeks, seeing everything from above, feel that indescribable feeling of living a unique experience and realize that all this have only the possibility of repeating in certain places. This makes you see that we have so much to learn.
Therefore, on this route, femTurisme.cat want you to bring some proposals adventure we found in our territory. From south to north and from the coast to the interior we find different parks of adventure, which we leave a choice. Take note and do not lose detail, the adventure begins!
Adventure parks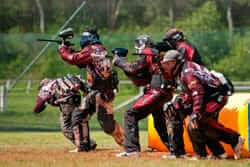 Relatively little over a decade ago, Catalonia had few such centers. So few that came to hand fingers left over.
Since then the phenomenon of adventure parks such establishments has become one of the largest of the territory considering his young age.
It seems that France is the leading country and where did the idea to create these centers and that is where the hundreds the number of adventure parks located in different forests.
A Catalonia has a long way to get to their number, however already has a handful of them. Today however, we have made a small selection so that you have a choice and have a great adventurers.
Bosc Aventura Salou
Bosc Aventura Salou is the first park that we propose. It is a multi adventure park located in the center of Salou.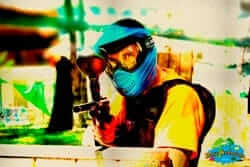 It is an ideal venue for birthday parties, bachelor / a, workshops for schools and young people, teambuilding activities for companies or simply to spend a day with family and friends and have a great place.
The space is ideal because it has 8,000m2 to practice different activities:
4 circuits of bridges and zip lines with 55 games by ancient trees and 8 zip lines of up to 80m in length, are the flagship product of the park.
Paintball area of 1,500m2, divided into 2 playgrounds and a shooting range for marksmanship.
A mini golf with 14 tracks of various difficulties.
Boulder climbing wall for climbing type.
It also has a picnic area with bar, soft drinks, snacks, ice cream, etc.
Barcelona Bosc Urba
Who would have said that under the square Forum Barcelona a series of ropes, nets and bridges that have made ​​this place would be installed in Barcelona Bosc Urba This park is a new concept of space adventure. urban adventure park air free but sheltered from the rain.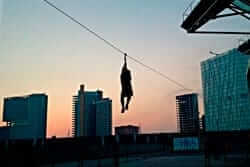 Without leaving the old city, the park offers activities zip lines, nets, lianas, bungee jumping, bridges, trunks located in platforms of up to 6 meters and more, as it has over fifty attractions with several circuits and different difficulty levels, for children and for friends and families who like strong emotions.
Clearly, this is a new way of living the city and meet passing what the new concept of what is called urban forest.
Bosc Vertical
The Vertical Bosc is a pioneering concept of adventure park in the trees to enjoy good views and many adventures. It consists of two of the largest and highest Catalonia parks located in Mataro and in Dosrius, where there is also a picnic area.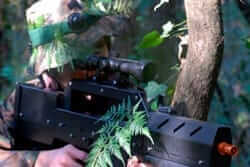 The activities are so diverse that allow live thrilling sensations:
8 circuits for all ages, with 160 original activities: the famous liana Canopy, the dizzying slide in the circuit Encantats, innovative snowboards, scooters and bicycles to get from one tree to another and many others.
Laser Combat: play and live a combat laser weapons, like you're inside a video game.
Segway and electric bikes: to enjoy the roads and landscapes of the Natural Park Montnegre-El Corredor.
Orientation: venture into an unknown space in search of landmarks testing your orientation.
Team Building: share with coworkers various challenges such as teamwork, communication and leadership spirit.
Jalpiaventura
Jalpiaventura is an adventure park in the trees, surrounded by nature but a few meters from the town of Arenys de Munt and near the highway.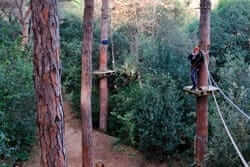 In the park you will find up to 6 paths suspended between the trees, high and progressive difficulties with something for all ages.
Following the tour, it is advanced by bridges, nets, zip lines, suspension bridges, lianas and many other elements that will make the adventure in an amazing experience and all with the maximum safety and under the supervision of monitors.
It is ideal for families or birthday parties and even bachelor / a, for companies and for schools and centers.
It has a picnic area with ample parking, a restaurant and Segway rental.