Passeig de Gràcia, 43
Barcelona
Contact
info@casabatllo.cat
Casa Batlló is one of Antoni Gaudí's most important works and his only house considered one hundred percent Modernist in style.
This building, designed in 1877 by Emili Sala y Cortès, was bought in 1902 by the textile entrepreneur Josep Batlló, who commissioned Gaudí to completely demolish the block of flats to build his home from scratch.
Gaudí convinced Mr. Batlló not to demolish it and to carry out a major renovation that lasted from 1904 to 1906. In this way, the foundations and structure could be used, and a new life full of color and creativity was given to a building single from Paseo de Gracia.
Declared a World Heritage Site by UNESCO in 2005, Casa Batlló stands out mainly for its façade where people find all kinds of representations: there are those who say that the house is a carnival, the balconies are the masks and the colored walls are the confetti; Others say that the house represents the bottom of the sea and the balconies and columns are the bones of the dead animals. Others say that this is the house of the dragon and both on the facade and inside the legend of Sant Jordi is represented, especially thanks to the colorful roof with large pieces of ceramic that seem to be the scales of a reptile crossed by a large cross. with four arms that represents the sword of Sant Jordi.
But Casa Batlló is much more than its façade: inside we find original construction techniques that are not only decorative but also functional, and represent a milestone in terms of the possibilities of innovation that artisans had at that time. Gaudí's creative universe revolved around nature, and it is in these rooms and the patio of lights where his great inspiration is best reflected.
Currently, Casa Batlló offers the 10D Experience, a unique immersive visit in the world that appeals to the five senses with the most advanced technology. An emotional, attractive and inclusive visit so that all audiences can enjoy the beauty of Casa Batlló and travel to the mind of Gaudí. Also, in the spring and summer afternoons, you can end your visit with a rooftop concert choosing from 15 different artists. An unforgettable open-air concert to conclude the visit and celebrate the genius of Gaudí.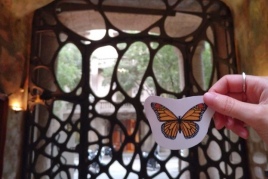 04/02/2023 ...

10/02/2023 - 12/02/2023