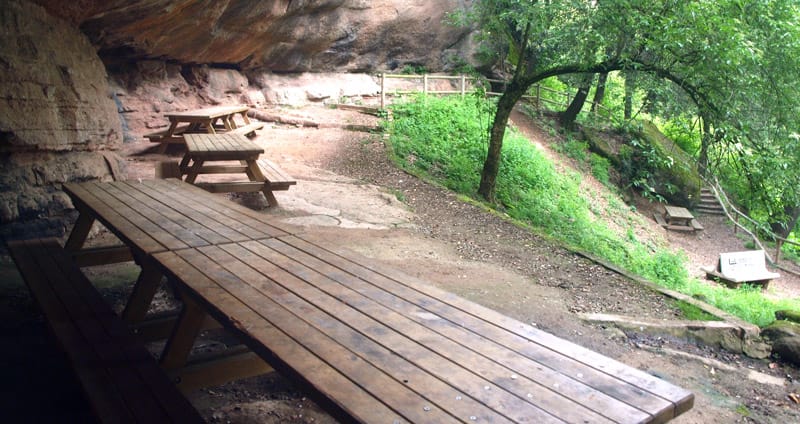 Has picnic gone? Catalonia has many designated areas and free use unknown to many of the citizens; You can find them in almost all populations, located in some really nice places of great architectural, scenic or historic interest.
Today 5 times for cultural tourism or nature we propose in the province of Barcelona with the common denominator of eating in a picnic area near the area to visit.
Surely some will surprise you, let yourselves be carried away...
Picnic area of ​​the Black Font (Berga)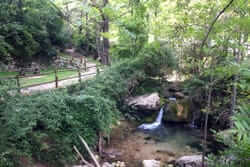 Black Font is well known for the region and also busy in the warmer weather arrives. It is a cool place to be, since it is on the north side of the Sierra de Queralt, they will not be short of shadows from where you prune to contemplate the stream of Metge and small jumps. It is arranged in terraces where there are a total of 17 tables, playground, athletic track and the source is named.
Its location in the middle of nature, halfway between Berga and the Sanctuary of Queralt and Rasos de Paguera, makes it an ideal place as a resting point for lunch, snack or just to take a break.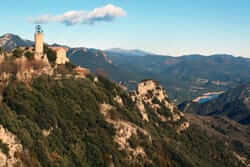 We suggest a visit to Berga, capital of the region of Berguedà, which has a beautiful historic center where Corpus Christi is celebrated during the Patum of Berga (declared Oral and Intangible Heritage of Humanity by UNESCO holidays). Be sure to take a stroll along the Paseo de la Industria, known as "The Vall"; Saturday there is a big market. In the highest part of the town is the castle of San Fernando.
We strongly recommend visiting the Sanctuary of Santa Maria de Queralt situated at 1200 meters altitude and from where you have spectacular views of the Lower Berguedà and to Montserrat on a clear day, not without reason it is called "balcony Catalonia". The architectural ensemble consists of Queralt Sanctuary itself, a restaurant, a small souvenir shop and a funicular to access from the parking area if you have mobility problems.
Picnic area Source de las Cuevas (Lluçà)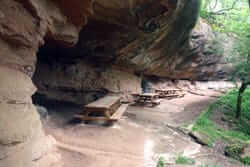 Despite being very close to the road C-62, La Fuente de las Cuevas is a haven of seclusion and lush. When you catch the little signposted diversion, nothing makes us suspect what we find: a grotto that houses several picnic tables creating an atmosphere of adventure and mystery that will delight young and not so young. Under the bauma we find 3 wooden tables and in the remaining space of the recreational area there are 4 more, also find four barbecue. A couple of tables are double so if you are a group you'll be fine. If you are concerned that there is not much place to play, a small soccer field where children will enjoy. It is a really cozy and charming, but worth visiting not eat space. It is an ideal place to spend the day or to stop to eat, enjoy and continue instead.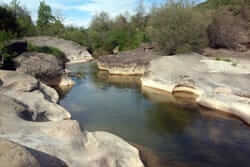 A very tempting offer in the area is to go for a walk by the river of Merlès where you will find waterfalls, rocks and pools where facing the good weather you can take a bath. It is a stream of great beauty and declared Natural Interest passing through the regions of Ripollès, the Berguedà, the Bages and Osona. A local road is so for much, it will not be difficult to find a place to leave the car and access walk.
In Lluçà is the Monastery of Santa Maria with a beautiful cloister, well worth a visit. In Prats de Lluçanès is the Sanctuary of Lourdes has a veranda with superb views of the Lluçanès. The shrine dates from s. XIX although subsequently it has been extended. It's in a nice environment and great beauty. It is one of the most visited monuments in the area.
Can picnic area Wives, Santa Fe del Montseny (Fogars de Montclus)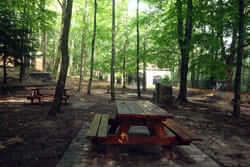 This nice and shaded picnic area is in the garden of the information point of the Natural Park Montseny Santa Fe del Montseny in Fogars de Montclus. There are few tables, only 3, but enough room to play; as a starting point for excursions long time people and entertains not usual to find a place. In this space we also find a source and sinks of the information point. There are 3 towering redwoods the driveway to the point of information well worth a moment to observe them. Although there is a large parking area sometimes hard to find a place, so if you plan to go better go soon.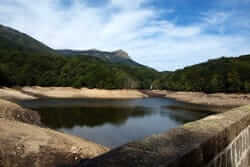 At the information desk will give you maps or information you need. The most popular excursion is to travel around the Swamp of Santa Fe. It is a short, easy hike for all ages, has little unevenness and the setting is lovely. Any time of year is good to go, but especially in the fall and spring with the explosion of colors that carry these stations. We recommend get close to the stream for small jumps and pools that form. If the dam is also full, the day is round. Full circle, making a walking pace takes about an hour away, because maybe you stand to watch tadpoles, pick mushrooms or pineapple.
You can also approach the source Passavets which is within walking distance of the point of information. If you go early in the morning, I'm sure you will find more of a photographer looking to capture the first light this very bucolic. If instead what you wish is to see views, we must go to the Turo de l'Home where you can enjoy a spectacular view.
Picnic area Forest Park Mataro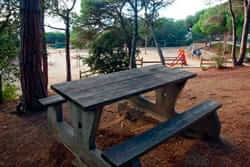 Park ideal if you seek a place to go with children. It is very large, lush with many different spaces. There are many tables scattered throughout the park, you can choose whether you desire shade, sun, or stand beside the playground to control small or even enjoy views of Mataró and the sea. You can deleitaros walking and observing the vegetation or go to the bar there is an entrance, where you will also find a bathhouse.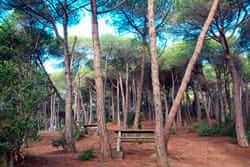 They have recently launched a Vertical Forest giving more entertainment options.
Mataro offers an interesting old center where you can see buildings of modernist architecture, baroque, neoclassical and even Roman. In point of information they provide free audio guides for the recommended route. The capital of Maresme enjoys wide commercial and cultural offer.
If you prefer to relax on the beach, Mataro has a coastline with over 2 km of beach. Playa de Poniente, Varadero Beach, Pebble Beach and Playa de San Simon All beaches are well equipped. You can also stroll through the long and pleasant promenade and enjoy the sea view or sit on a terrace for a drink.
Picnic area Gardens Joan Brossa, Barcelona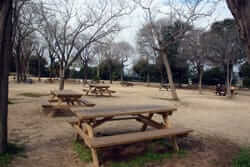 For some locals it is a nostalgic place, since in these same grounds was the Montjuic park. Those that you had the luck to enjoy it as amusement park will make strange to see this as gardens.
The picnic area is right there at the entrance in front of the iconic sculpture of the sardana. It consists of 24 wooden tables spread over a large square where you will find sun; There is plenty of room to play, an information and public restrooms. Be sure to walk around the rest of the park spread over several terraces where you will find playgrounds (with traditional music and games), gazebos, sculptures of familiar characters and charming corners where sit awhile.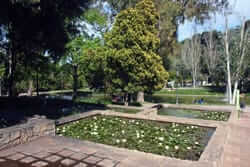 Montjuïc Park is full of places to visit or to enjoy them, the best known: the Olympic Ring, the MNAC, Montjuic Castle, the Miró Foundation, etc. But you will also find sports fields, the Botanical Garden of Barcelona and the Historical Botanical Garden of Barcelona, ​​?? the Mansion Albéniz with its romantic gardens, the viewpoint of the South, the Fuente del Gato, the Greek Theatre, Cinto Verdaguer gardens where in Spring will see water lilies, the Museum of Archaeology, playgrounds and so on. There are thousands of places to unwind from the city of Barcelona; You can spend the whole day and it will have not seen everything.
This is only a small sample of what you will find. The most common places to find picnic areas are fountains, chapels, sanctuaries and parks.
We hope haberos open curiosity and initiate you into the practice that just begs to be aware and respectful of nature and other users. Especially collect garbage (almost all are containers or bins, and if you carry unto you), avoid shouting and music.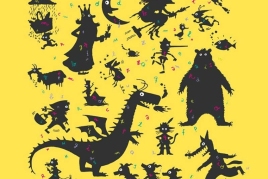 20/09/2023 - 24/09/2023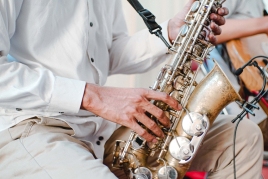 22/09/2023 - 24/09/2023 ...