Circular route through Cala La Pola in Tossa de Mar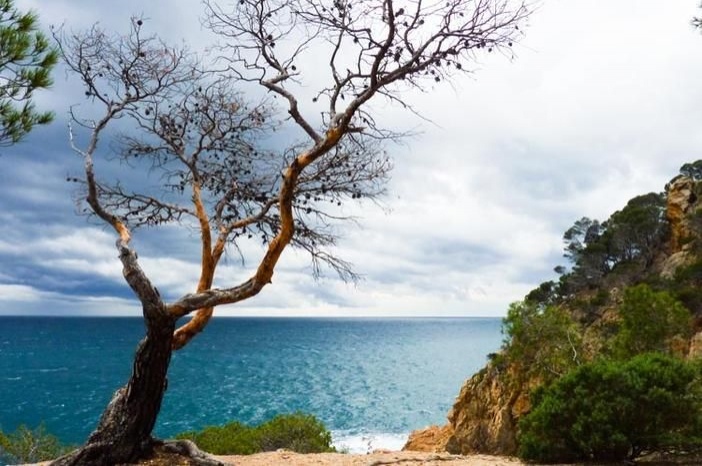 This circular route will take us through two sections with well-differentiated landscape contrasts. We will start the exit to a forest and interior area of Tossa de Mar until we reach the Ardenya Cadiretes massif, where we come across the spectacular nature of the essence of the Costa Brava when we suddenly come across the large cliffs dotted with pine trees articulated on small and isolated coves.
Difficulty: Easy, without technical difficulty, although there are some steep short-distance climbs.
Distance: 7.7 kilometers
Time: 2 hours and a half approximately
Elevation: 290 meters
We will begin by following the GR 92 along the side of the Tossa stream, which will take us along a forest track through Mediterranean forests to the Sastre pass. Be alert because although the road is wide, there is a section of descent where you can slip. Once at the pass we will stop following the GR 92 and we will follow the indicated route with its own green markings.
We will head towards the coastline, first crossing through a campsite just on the last stretch. Do not worry that you will not find any obstacle when crossing it. The route is set like this for the moment. Already on the beach, we will have reached the beautiful Pola cove, the scene of several advertising spots thanks to the beauty of its landscape made up of thick, golden sand, clear, crystal-clear water and a pine forest that guards it.
We will leave the cove behind us and take the coastal path, which climbs up the coastline and will give you an incredible view of the area. This section makes a somewhat steep climb, but it is a short section that is affordable for everyone.
We will continue straight on until at one point on the route, after the Chalet de Sant Jaume, we will come out onto the road along which we will have to travel for several meters until we re-enter the paths of the coastal path. Along the way along the road, you will find a viewpoint where it is worth stopping and taking a look at the sea! You are sure to be breathless!
You will easily identify the entrance of the coastal path again, since the path enters again between the pines heading towards the cliffs. Finally we will arrive in Tossa de Mar via the Mar Menuda beach, where we will have very nice views of the island of Tossa de Mar and its impressive walled Vila Vella.
Text and images: Tossa de Mar City Council