Vol de Coloms Olot, Santa Pau
Contact
info@voldecoloms.com
Balloon flights in the Garrotxa, fly over the volcanoes of Catalonia from a bird's-eye view.
Live the experience of flying over a hot air balloon in the Volcanic Area Natural Park, one of the most interesting dormant volcano areas in Europe.
Flying in a balloon is a different way of traveling, it is floating in the air, in calm and silence and feeling the sensation of absolute freedom, serenity and adventurous spirit.
On clear days, we can observe Montserrat and the Mediterranean Sea, Pedraforca, Canigó, Montseny... always with the Pyrenees in the background and the volcanoes under our feet.
A balloon flight is a unique experience to give on a birthday, a wedding, a retirement, at Christmas, Sant Jordi or for any special occasion.
The activity begins in the early morning (between 7 and 8 depending on the time of year) which is when the atmosphere is colder and more stable and the wind calmer.
You will find us at the Vol de Coloms facilities, next to the Croscat Volcano, where we have the takeoff field. Luxury facilities with private parking, cafeteria, services and restaurant only for passengers and companions.
When the morning arrives we invite you to have a coffee and a pasta while watching the preparation of the balloons and the inflated candle or participate in the assembly.
The wind marks the direction of our trip, which usually lasts from 1h to 1h 30 minutes approximately.
During the flight we toasted with pink cava, which symbolizes the color of the volcanic earth and we tasted pork rinds cake.
Once landed, we will go together to the facilities of Vol de Coloms, where we expect a good breakfast of peasants with bread with tomato and sausage, beans from Santa Pau with butifarra, desserts from Cooperativa la Fageda, wine, ratafía and coffee.
To finish the adventure we will give you a flight diploma signed by the pilot.
Different types of flight
Standard balloon flight (the usual flight sharing basket), family flights, exclusive flights for 2 people, exclusive flights for 4 people, adapted balloon flight, incentive balloon flight for companies.
Exclusive services
Luxury facilities within the Natural Park with parking, cafeteria, take-off field, services and restaurant. 100% accessible
We have been flying in a balloon since 1992
The microclimate of La Garrotxa allows us to fly all year round. We do flights between weekdays and weekends.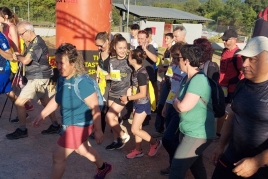 11/06/2023

14/10/2023 - 15/10/2023