We do adventure from the air
The human being has not been created to fly, but we have already managed to enjoy the world from the air, but have you ever seen Catalonia from the air?
If you have strong adventures and adrenaline, flying is the perfect activity to enjoy a good experience, it is worth trying and discovering the world from a new perspective.
And it is that flying can be done in many different ways: light aircraft, ultralight, balloon, helicopter, paragliding, etc... the offer is wide and the experience unique and unforgettable. And if you prefer to keep your feet on the ground you can always become a pilot for a day in the mock rooms.
The first thing is to be clear about what kind of activity we want to practice. If we prefer to do it as a couple or in a group, perhaps we are more interested in opting for light aircraft, helicopters or balloons, but if we prefer to do it alone (except for the clear guide!) Well, maybe paragliding is our activity.
The feeling of taking off. Leave the clouds behind. The thrill of feeling completely free while down everything seems insignificant. Throughout Catalonia we can find many places to practice any of these sports and... to fly!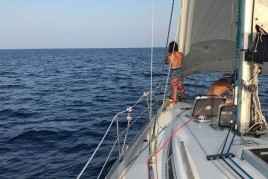 Escola Nàutica Centre de Navegants (Badalona)
26/06/2022 ...