Province:
Girona |
Shire:
Garrotxa
|
Inhabitants:
1.600 |
Extension:
49,0 Km2 |
Altitude:
496 m
Santa Pau is a XIV century villa located in the heart of medieval origin of La Garrotxa Volcanic Zone, between the mountains of the Mont Sant Julia and Santa María de Finestres, southeast of Olot flat. 81% of the municipality is part of the Natural Park of the Volcanic Area of La Garrotxa, with such important elements as the Santa Margarida volcano, the volcano Croscat or Fageda Jorda (beech forest).
The villa has a distinctly medieval, between walls and narrow and irregular streets. The result of this is the medieval castle of the barons of Santa Pau, documented mid-thirteenth century, and situated on a ridge at the foot of the Sierra de Finestres. In 1971 Sant Pau was declared a National Historic-Artistic.
Inside the walls are stacked townhouses and adapt to uneven terrain leading to a street with all the medieval charm.
In the center of the old town is the church of Santa Maria, with an imposing bell tower, built in Gothic style in the fifteenth century, as the former parish of Santa Maria dels Arcs quedló badly damaged after the earthquakes of 1427 and 1428.
Also mention the Plaza Mayor or Firal dels Bous, a square portico of arches arranged around the castle irregular, and that today make it one of the best preserved medieval squares in Catalonia. The Firal dels Bous name comes from the fact that once was the place where they held the markets and fairs of the town.
Two kilometers from Santa Pau, towards Mieres, find the Sanctuary of the Mother of Diós dels Arcs, built between 866 and 877. Formerly the parish of Santa Pau, but during the years 1427 and 1428 an earthquake destroyed the church and the parish happened to be the church of Santa Maria in the center of the village.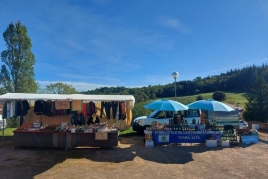 07/10/2023 - 08/10/2023

06/10/2023 - 08/10/2023

Weather forecast
26-09-2023
Morning
Evening
Max 27º
Min 11º
27-09-2023
Morning
Evening
Max 27º
Min 11º