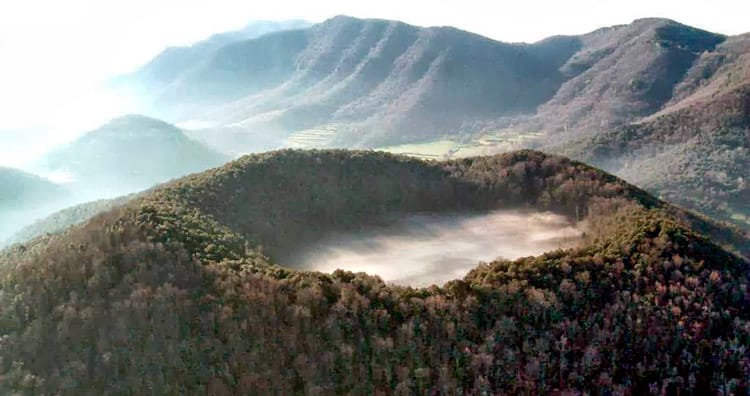 La Garrotxa is a region that is borderline between high mountain and the esplanade Ripollès Empordà and scenically, very unique.
Most of the area is mountainous and is covered by forests. Also, is a volcanic area and wet, due to rain.
This land of volcanoes hosts a cultural, architectural and monumental wealth homogenized with nature: Romanesque churches, small towns with castles and walled Romanesque bridges, Roman roads ... framed by mountain ranges, forests, valleys and ravines.
Also, although the region's ancestors conceived the Garrotxa as a wild and bad walking, is an area that allows you to grow and collect unique and very distinguishable products. This characterization of the products is due to the volcanic features of the earth, and that generate a fertile and fruiting crops with personality.
Therefore, today gastronomy and cuisine have become a claim over the region, along with natural and cultural attractions. All items can be discovered walking through a privileged landscape or on a plate.
The Natural Park of the Volcanic Area of the Garrotxa
The region of La Garrotxa is a very mountainous area where stands the volcanic area of great geological and natural interest, concentrated in the plain of Olot .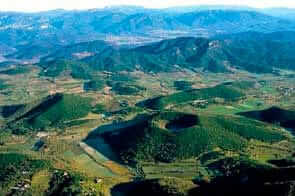 The area hosts a forty volcanic cones These can be differentiated into three groups. Plain Olot and its slopes, the valley of the river and valley Ser Llémena and Brugent Valley.
Presumably for this reason, the region is known as the "pole", a word meaning rough and broken ground.
All this volcanic area is protected as a Natural Park of the Volcanic Area of the Garrotxa and welcomes Geobotàniques Integral Reserves as Fageda Jorda.
The dominant vegetation of this territory are the oak, oak, beech and Aliseda, but retains dozens of varieties of fruit trees.
Legumes and vegetables garrotxinas
One of the basic ingredients of the cuisine of the Garrotxa are beans (fesols) Santa Pau, which are harvested in September.
These grown in volcanic soil near this town legumes are characterized by smaller than usual and with a thinner skin, which makes them need less cooking time.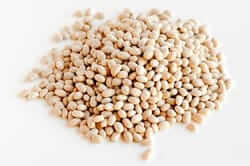 Another product of the prestigious Garrotxa are black turnips. these, though they were formerly subsistence products, have become an elite product is characterized by its fine and delicate flavor.
A glance out for being a tuber black leather, but the inside is white. This is harvested during winter and can consume up to March.
With the evolution and constant change, agricultural production has also undergone some changes. For example, increased cultivation of potatoes for the Vall d'en Bas.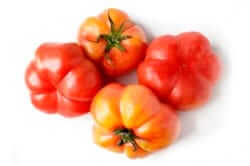 This tuber, however, is characterized by differential features characteristic of a specific variety but the characteristics are attributed to him by the peculiarities of the soil and the more time spent buried, because in this way wins taste.
By contrast, other products such as tomato Montserrat, also known as pink tomato, allowed to grow for years and lately are recovering.
These tomatoes, noted for its delicacy and shape of pumpkin are harvested from April to October.
Cereals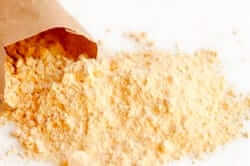 Other products that have been recovered as tomato are the spelled and buckwheat (fajol).
The farro is a flour made ??from white corn, which has a distinctive dietary and culinary qualities.
In addition to using white corn to make corn farro wheel, cross maize and yellow corn is also used. The latter is the most common, as the flour that is generated is more productive.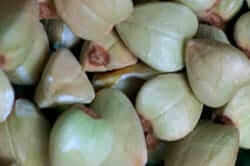 Interestingly, today, although the farro is a popular product, its origins are linked to famines.
Another typical cereal area is buckwheat, also known as grain buckwheat, black wheat, or wheat edging cairut.
This is available as flour, crude, in porridge or preserved in water and salt.
Meat and dairy
In the region of the Garrotxa is renowned lamb, which stands out as tastier and have more consistency.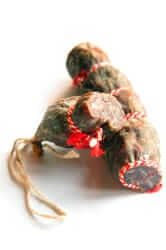 This feature is because it comes from a herd of sheep that have been fed premium feed and milk.
Veal is also notable for the way in which the animal is taken into account the transformation of muscle in meat quality has been raised. There is even a quality seal which guarantees their properties.
As for processed meat products, there is a sausage that comes from a traditional development that was formerly in the houses. This sausage called piumoc and is similar to a dry sausage which comes from pork rib.
Formerly in the cottages where farming activities took place also elaborated recuit.'s Recuit (cottage cheese) is a product that is the result of pasteurized goat then curdles.
Serrat sheep cheese is a proprietary product of Garrotxa . This is made from spring to autumn, from raw milk.
Drinks and dishes
Herbs also play an important role in the cuisine, which provide a particular touch to the dishes.
Other typical dishes like peas Catalan sausage with Santa Pau, stone soup or entortxat roscón or roulade of Olot, can be accompanied by typical drinks like ratafía.
The ratafía is a typical drink of the Garrotxa and assembly of the Catalan Pyrenees, which is made ??with nuts and brandy.
A good time to try this typical drink is going to the fair to be held in Ratafia Besalu during Purisima December.
Other gastronomic fairs held in the county and are a good opportunity for typical products are Gastronomic Garrotxa Garrotxa, which takes place during the month of November and December, Fair Fesol (bean) in Santa Pau , in January, the Fair Inlay Olot in February and Buckwheat Fair in November.
Also, in April and May, the Gastronomic cuisine mushroom spring municipalities are held Olot , Les preses , the Vall de Bianya and La Vall d'en Bas .