Barcelona Bosc Urbà Barcelona
Contact
info@barcelonaboscurba.com
Located in the Plaza del Fórum in Barcelona, Bosque Urbano is a new concept of adventure space: an urban adventure park, outdoors but sheltered from the rain.
It is no longer necessary to leave the city to enjoy sports and adventure activities: zip lines, nets, lianas, bungee jumping, bridges, trunks located on platforms up to 6 meters high, are some of the more than fifty attractions that await in the different circuits that they propose, designed both for children and families as well as for lovers of strong emotions.
orange circuit
Low difficulty level. Aimed at children from 3 to 8 years old It consists of 14 platforms located 1.5 meters above the ground.
blue circuit
Medium difficulty level. It consists of platforms built 4 meters from the ground and is suitable for children from 8 years of age from 1.30m in height, families and adults.
red circuit
Advanced level for lovers of strong emotions. Intended for all those who want to release adrenaline and enjoy the maximum emotion. With platforms located from 6 meters above the ground, the circuit ends with the zip line of more than 120 meters. Suitable for children aged 11 and over and over 1.45m tall.
They open all year round, for groups of more than 10 people any day at any time. They organize custom events.
Maximum fun with maximum security, the facilities pass a security certificate every year by the company Risks and Prevention, SL, specialists in the sector.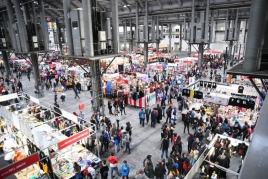 08/12/2022 - 11/12/2022