Jazz & Soul nights with dinner at Mas Ravetllat Pla
07/10/2023
04/11/2023
02/12/2023
Barcelona
(Mas Ravetllat Pla)
Live a complete experience in the mythical Mas Ravetllat Pla!
The Jazz & Soul dinner is a cultural, gastronomic and musical experience in the Mas Ravetllat Pla building where you can enjoy a guided tour inside the building where one of the most valuable private furniture collections in the world with more than 800 pieces is located., taste its unique gastronomy and delight yourself with a Jazz & Soul music concert given by a selection of internationally renowned musicians and artists. You can choose between a vegetarian, gourmet, blues, soul or jazz menu.
oh! And there is also an option without dinner available in case you prefer only the guided tour and the concert.
Get your tickets for Jazz & Soul Nights with dinner at Mas Ravetllat Pla in Barcelona!
Choose the option that you like the most!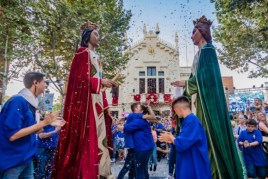 22/09/2023 - 25/09/2023

25/09/2023 ...