Province:
Barcelona |
Shire:
Berguedà
|
Inhabitants:
298 |
Extension:
66,4 Km2 |
Altitude:
1.215 m
Saldes is a municipality located to the north of the Berguedà region made up of the entities of Saldes, Maçaners, l'Espà, as well as other smaller ones. It extends along the eastern side of the emblematic Pedraforca mountain, between the Sierras del Cadí and Sierra d' Ensija. It borders on other small-populated mountainous municipalities such as Josa del Cadí, Tuixent, Gisclareny, Gósol or Vallcebre.
In the valley where it is located, the Saldes river or the Eina river is formed, which converge with the Salada stream and the Gresolet torrent, which come from the two mountains that surround it. Further on, the river joins the Llobregat.
In the area between Maçaners and Saldes we find a dolmen, a sample of prehistoric life in the area. There is evidence that in the Middle Ages the castle of Saldes belonged to the barons of Pinós, and that it came into the hands of the Duke of Alba during the 16th century. At the end of the 19th century, Saldes became important due to the discovery of a mining deposit in the area, which led to a significant growth in the population and a wave of miners coming from Asturias to work. This increase in population and the ideology of most of the immigrants led to the construction of a Civil Guard Barracks, unique in the area. Mining was terminated in 2008, when the company Carbones Pedraforca SA closed.
Today its natural environment is important and more so since, in 1982, Pedraforca was declared a Natural Parasite of National Interest.
maçaners
From this point there are fantastic views of Pedraforca and, in addition, we can enjoy the tranquility and beauty of a large number of sources, such as: Cala Pona, Clavellina, Guia or Sull.
Also, on the second weekend of July, we can enjoy the Trobada d'acordionistes (accordionists) that has been held since 1985.
L'Espa
This nucleus was built around the Romanesque church of Sant Andreu dating from the 12th century. In addition, it was the starting point of a cable car that transported coal to Guardiola de Berguedà.
Feners, Molers, Cardina and Coll de la Trapa
Feners is a country house in the municipality, located a little further south of l'Espà. In Molers we find a village and the Romanesque church of Sant Ponç. Cardina and Coll de la Trapa are neighborhoods located near the center of Saldes.
PLACES OF INTEREST
Pedraforca Adventure Park
Saldes Castle
Sant Sebastia del Sull
Pedraforca Astronomical Center
feners
Molers Dolmen
Vall de Gresolet
Gresolet viewpoint
09/12/2023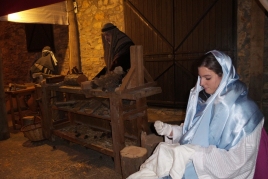 08/12/2023 - 09/12/2023

Weather forecast
06-12-2023
Morning
Evening
Max 9º
Min 2º
07-12-2023
Morning
Evening
Max 11º
Min 2º