Province:
Barcelona |
Shire:
Berguedà
|
Inhabitants:
2.361 |
Extension:
43,1 Km2 |
Altitude:
785 m
Baga is a municipality located in northern Berguedà and is the southern gateway Cadi Tunnel. It is situated in a splendid landscape, as it has to touch the Natural Park of Cadi - Moixerò.
Historically, Baga is one of the most important centers of the Pre-Pyrenees area during medieval times was under the domains and, in fact, also his creation, Pinos barons. Its urban structure of a large arcaded square, where we found the church and the Palace of the Pinos, under restoration. Medieval history is dominant and, in turn, gives life to the town, and held various events to commemorate certain aspects and show them to visitors. Of these events include the Festival of the Barony of Pinos, within which we find guided tours, concerts, conferences, etc.. on the same dates (mid-July) falls Baga Medieval Market, Fira de demonstrations d'oficis tradicionals (fair demonstration of traditional crafts) and Gastronomy Fair Berguedà agroalimentaris productors (sample gastronomic products Berguedà ). It is also remarkable in these celebrations the representation made ??legend payment of tribute by Galceran de Pinos known as "The 100 donzelles rescat of them" (Rescue 100 maidens).
On Christmas Eve, Baga also becomes a party. This is known as "Fia-faia" in which citizens burned torches (called faies) from a fire on the top of a mountain west of the town. From there down the burning faies forming a fire road until you reach the square of Baga. There the heat is distributed with other people and are held dances around.
Another important feast is the Feast Baga rice, which is held the second Sunday of February. While waiting for the rice is done, become Cerdà Ball shows that people can be incorporated. They considered that this is a way to sustain and endure this tradition.
04/06/2023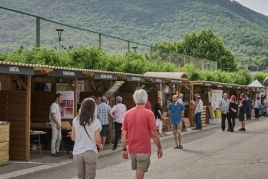 02/06/2023 - 04/06/2023

Weather forecast
31-05-2023
Morning
Evening
Max 23º
Min 11º
01-06-2023
Morning
Evening
Max 19º
Min 13º