Route through the Ripollès Greenways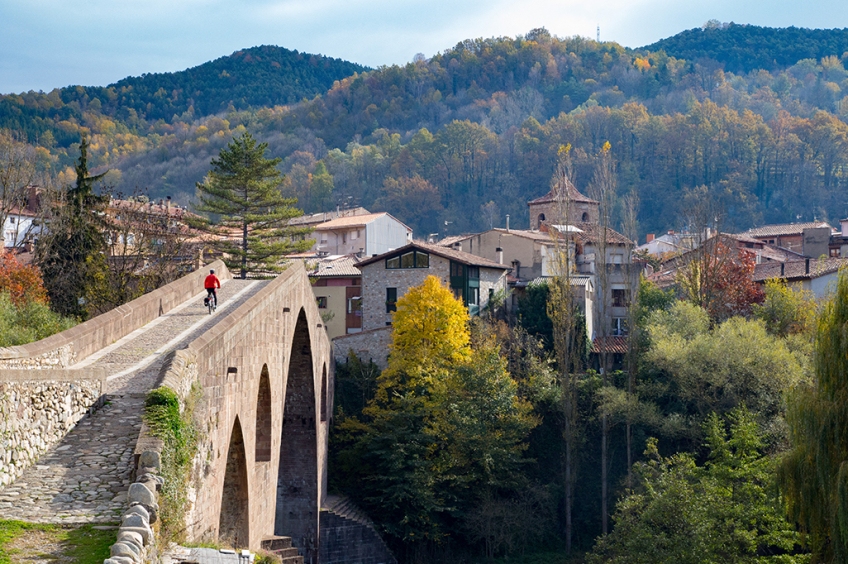 Route: Campdevànol – Ripoll – San Juan de las Abadesas – San Pablo de Segúries
Start: Campdevànol Church Square
End: Sant Pau de Segúries Town Hall
Route: Linear, round trip along the same path
Distance: 23.5 km (one way)
Difficulty: Low
Unevenness: 1.15%
We start the route and leave from the old town of Campdevànol, and following the streets of the town we arrive at the new section of Camí Ral y Ganadero that will take us to Ripoll (5 km). It is a fairly flat route that connects with the well-known Vía Verde del Hierro y del Carbón. Once we arrive at Ripoll, we have to cross the town center of the municipality, during this tour we can take the opportunity to visit the Monastery of Santa Maria de Ripoll and its Romanesque portal.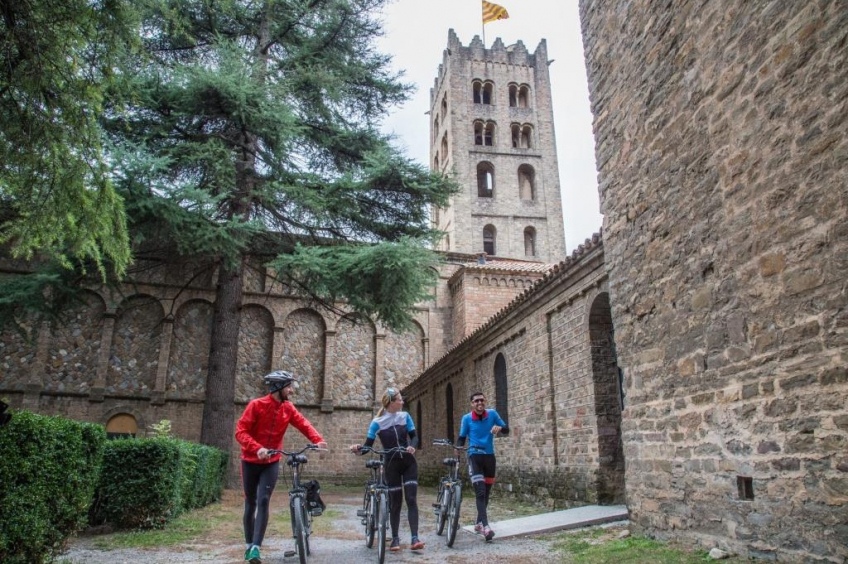 Continuing with the route, in the Can Guetes area we will find the start of the Ferro y del Carbó route, which follows the route that the train used to make. The greenway is fully signposted, and it is an accessible and flat route.
About 10 km later, we arrive at Sant Joan de les Abadesses through the station park. It is worth taking advantage of the passage through Sant Joan de les Abadesses to visit the old town and learn about its history, linked to Count Guifré el Pilós and the legends of the Arnau account. To continue with the route, you have to cross the town through streets and bike lanes, which will allow us to visit places of interest such as the Pont Vell, the church of Sant Pol, the Monastery or the Palace of the Abbey.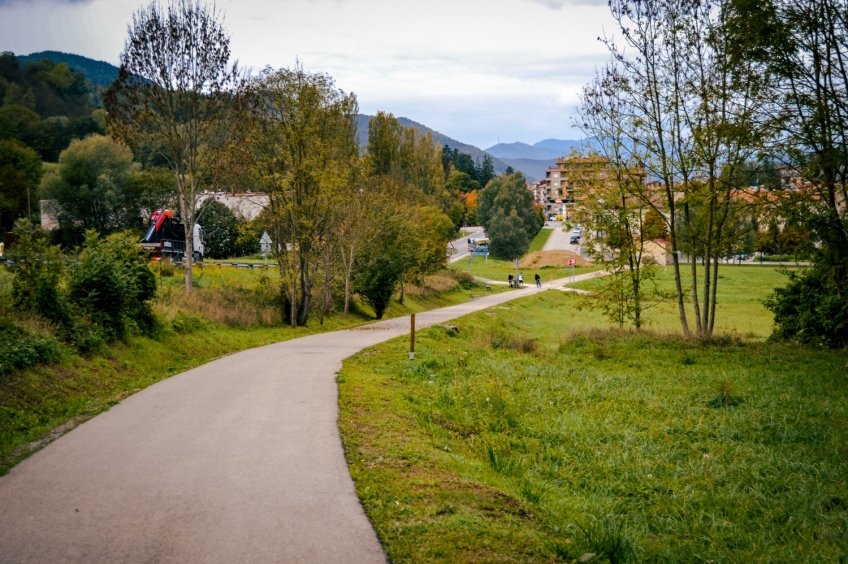 Once we have crossed the old town, we continue towards Colonia Llaudet, an old textile colony next to the River Ter, an emblem of the textile industrialization of Ripollès. This stretch of greenway has been executed relatively recently by the Generalitat de Catalunya and allows you to reach Sant Pau de Segúries (8.5km).
The entire route runs through sections of greenway segregated to motor traffic, except for the urban sections to cross the municipalities.
The route crosses four nuclei of municipalities with an offer of commerce, restaurants and accommodation.
Places of interest
Campdevànol Church
Molino Gros Ecomuseum and Pyrfer Center
Santa Maria de Ripoll Monastery
Ripoll Ethnographic Museum
Old bridge of San Juan de las Abadesas
Monastery of San Juan de las Abadesas
The Church of San Pablo de Segúries
The Roman Way of San Pablo de Segúries
In addition to places of cultural and historical interest, the route runs through mountain landscapes and spaces of natural interest such as the Serra Cavallera.