Route of Carrilet II of Girona in Sant Feliu de Guíxols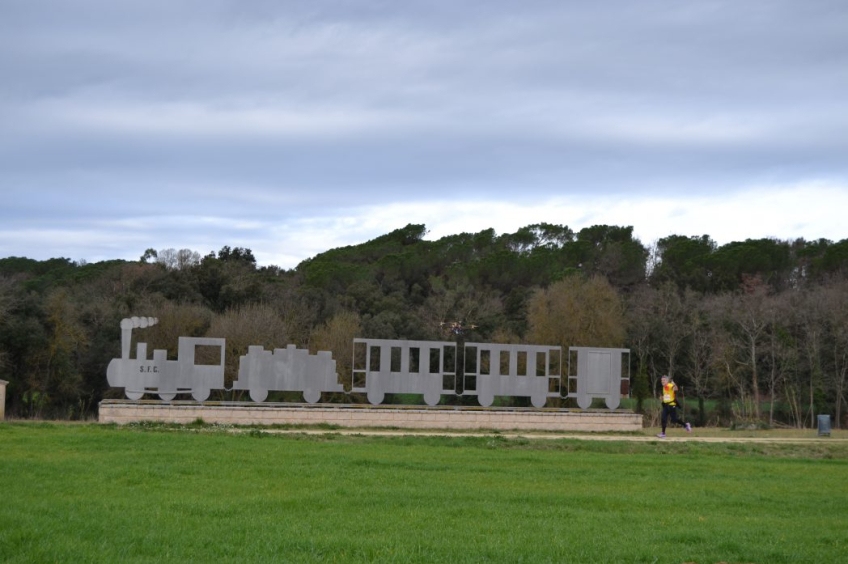 The Ruta del Carrilet has a route of 41.9 km, with a gentle slope from Girona to Sant Feliu de Guíxols (15 m), and reaches the highest point in Cassà de la Selva (136 m). Following the route of the old Girona-Sant Feliu narrow-gauge train, it allows visitors to discover two regions – Gironès and Baix Empordà – from the Ter basin to the Ridaura valley, passing through the Selva depression.
Kilometers: 41.9km
Unevenness: 0.5%
Difficulty: Minimum
Pavement: compacted gable
Maximum altitude: 136 m (Cassà de la Selva)
Minimum altitude: 0 m (Sant Feliu de Guíxols)
The peculiarity of the route of the Sant Feliu de Guíxols railway in Girona is the smoothness of slopes and curves. Its route is formed by a sinuous line mathematically drawn on the territory. The pavement is made of a granular material of the salon type that is highly integrated into the typology of the land that the itinerary crosses, although there are also urban sections in all the towns through which it passes.
Leaving Girona, the route first crosses the La Selva depression, characterized by a mosaic landscape with alternating crops and mountains where on clearer days we can enjoy an extraordinary panoramic view that ranges from the easternmost foothills of the Pyrenees to in Montseny, passing through the reliefs on the coast of the Transversal Mountain Range (el Far, Sant Roc, Rocacorba).
At Cassà de la Selva it connects with the Thermal Route, a greenway towards Caldes de Malavella. The second half of the route runs through the Ridaura valley, which separates the Cadiretes massif, to the south, from the Gavarres massif and which, with a slight unevenness, makes it easier for us to reach the sea right at Sant Feliu de Guíxols, a Cuna population of the place name " Costa Brava ", from which you can enjoy magnificent views.