Megalithic and landscape itinerary III in Roses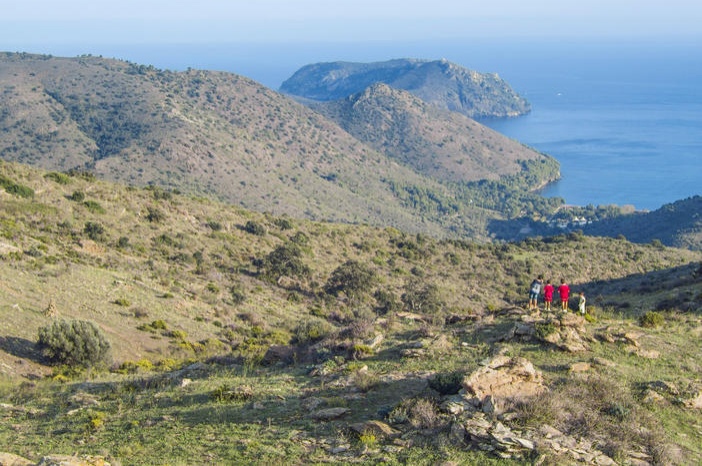 This circular route through the Montjoi valley, within the Cap de Creus Natural Park, invites us to discover the wild and lonely landscape of these regions and their cultural heritage. Under the small plain of the valley to its head, at the top of the Puig Alt crest, we will cross a landscape full of ancient crops blurred by the bushes and beautiful cork oaks. On top of the crest, in addition to enjoying the views, we will approach the phenomenon of megalithism.
Difficulty: Medium
Distance: 10.60 kilometers
Time: 3 hours and 40 minutes
Height difference: 605 meters
The route begins in the Montjoi valley, then goes up to the Fragam pass along the old "Coastal" path and from this point takes a path that leads to Pla de les Gates through the valley, a route to enjoy the environment full of margins and small terraces of old vineyards, now abandoned.
At the top, a track built during the 20th century takes us to the shady side of the mountain range, opening up new views to the north and at the same time facilitating the passage through the hills where we find interesting Neolithic heritage elements from Roses. They can be seen from the oldest megalithic tombs of the term to a cremation necropolis of the Bronze Age next to a medieval rural church. It must be taken into account that an important imaginative effort must be made to interpret what remains of these settlements. The Tomb of the General will be the most rewarding example to visit and despite not being entirely original, it is the best preserved cist in the Montjoi necropolis .
In these high parts of the term, it is where there are old watchtowers and from where the panoramic views over the bay of Roses, the bay of Port de la Selva and Cape Norfeu are unbeatable.
From here, we only have to go down, between the Jóncols valley and the Montjoi valley, always facing the Norfeu cape and let ourselves be seduced by this difficult landscape, punished by wind, fire and man, determining a strong personality.
Torroella de Montgrí - L'Estartit

(a 23.2 Km)
Enjoy magnificent cuisine and a stay with sea views, at the Restaurant…
Colera

(a 15.7 Km)
In Can Llissa we are defenders of the slow food philosophy and…