Couple on the run: a perfect couples getaway in Rocallaura
Intimacy, time together, plans alone to enjoy each other with calm, silence... Ah, how beautiful love is, right? Although we must recognise that between the traffic, the noise of the city and the urban stress, sharing and celebrating love can be a difficult task.
From Femturisme, we are fully aware of this and that is why we bring a proposal to escape all this noise and be able to find privacy and reconnect with the couple in the best environment.
We are fortunate to have a country with unparalleled landscapes of contrasts that merge material (and intangible too) and natural heritage, so if you are in Barcelona, pack your bags because just an hour and a half away there is Rocallaura and its surroundings, in the Urgell region, which will provide you with everything you need to take care of yourself and relax, have fun and of course, enjoy each other.
WHAT TO DO IN URGELL AND ROCALLAURA?
If you and your partner like culture, the Urgell region will fascinate you. Vestiges of Iberians, such as the Iberian city of Molí d'Espígol de Tornabous, charming medieval towns such as Guimerà, Verdú or Vallbona de les Monges, a municipality to which Rocallaura belongs, where you can teleport into the past through its narrow streets of stone full of stories and endless castles and fortifications that are witnesses of the battles, conquests, betrayals and secrets that are kept in each of the stones that raise them.
If, on the other hand, you are more adventurous and you need the contact with nature to take a breath of fresh air, surprise! The Urgell is also your destination. Whether cycling is more your thing or if you prefer hiking, you will find different proposals that you will not be able to resist. What would you tell us about doing a section of the Camino de Santiago as it passes through Catalonia? And a few kilometers traveling the Camino de San Ignacio? And as if this were not enough, the beautiful town of Rocallaura is located in the heart of the Cistercian Route, a circular path that passes through the regions of Alt Camp, Conca de Barberà and Urgell, which combines culture with nature and that unites the three main Cistercian monasteries of Catalonia: the monastery of Santas Creus, about 35 minutes by car from Rocallaura, the monastery of Poblet, 25 minutes away, or Vallbona de le Monges, just 10 minutes from the town.
And now, if on the contrary, it turns out that you are a couple of foodies, you will not be able to resist the gastronomic heritage of the area. Visits to local producers are always a success and in the area, several products stand out, and due to their quality and tradition they have received a protection seal and designation of origin. Products such as olive oil, with Les Garrigues Designation of Origin, wines from the Costers del Segre Designation of Origin, the iconic Torró d'Agramunt with Protected Geographical Indication, among many other typical and iconic products of the region.
WHERE TO ENJOY A NIGHT OF LOVE?
After spending a nice day in Urgell, you will want to relax and continue enjoying each other... Can you think of something better than a spa in the middle of nature for this? We are sure not, so let us tell you about the new hotel Iberik Rocallaura Balneari.
This wonder surrounded by forest is located just 15 minutes from the center of Rocallaura, in an old spa with more than a century of history, which makes it the ideal oasis of romance, pleasure, health, intimacy and comfort.
You and your partner will be able to enjoy the benefits of the thermal waters and a very complete range of water circuits, treatments and massages to relax, stimulate and take care of yourself in fully renovated facilities and with the help of professionals who, with innovative techniques and products, will leave you as new. And of course, you can enjoy a romantic dinner in the spa's buffet restaurant, with a proposal of seasonal dishes prepared at the moment and based on zero kilometer and traditional products of the gastronomy of the region.
Oh, and let's not forget, if you are a fitness couple, you are in luck because this spa's commitment to health is so strong that the gym is available 24 hours a day so that you can do your training routines and exercise in the best of companies.
If you want to take your partner on this idyllic getaway, you can book the 'Reconnect with the 5 senses' package here *, which includes the following services:
Half board accommodation with a special buffet of regional dishes.
Access to the hydrotherapy circuit.
Guided visit to the monastery of Vallbona de les monges.
Access to a masterclass for making and tasting desserts.
Musical evening with live music.
Special discount on wellness treatments
* Valid for the weekend of October 29th to 31st.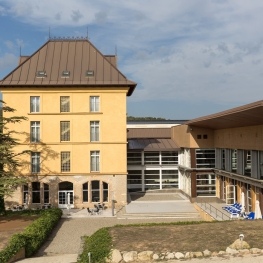 Vallbona de les Monges
The Iberik Rocallaura Balneari Hotel is a tourist complex made up of…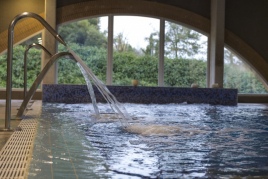 Hotel Iberik Rocallaura Balneari (Vallbona de les Monges) (a 4.3 Km)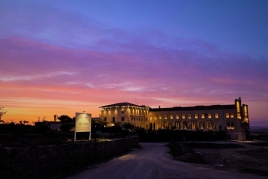 Mas de Colom, Casa Borges (Tàrrega) (a 16.1 Km)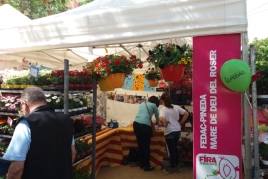 28/05/2022 - 29/06/2022

23/06/2022 - 29/06/2022