A Christmas of Light and Sound Awaits you at Casa Batlló! Attend the Free Show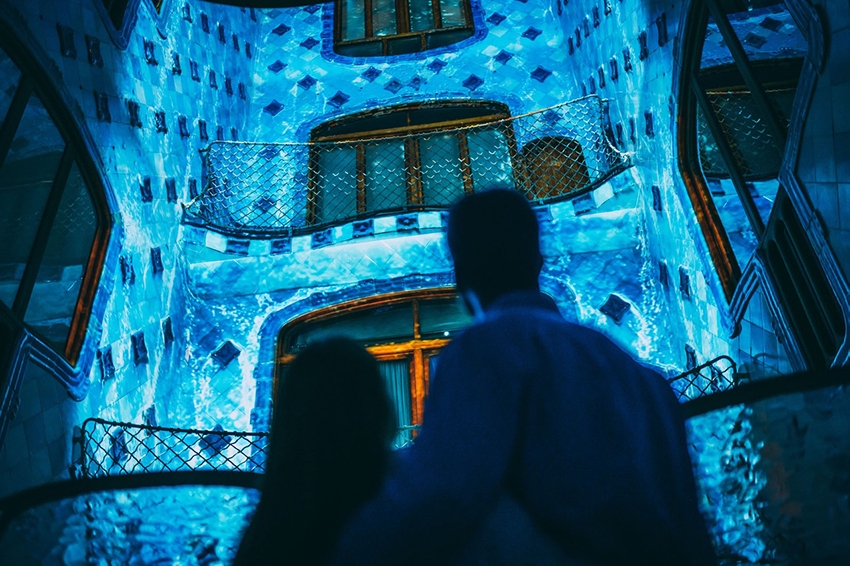 Located in the vibrant heart of Barcelona, Casa Batlló, an architectural gem created by Antoni Gaudí and recognized as a UNESCO World Heritage Site, is a beacon of creativity and culture that attracts more than a million visitors annually.
This iconic monument is not only a testament to Gaudí's artistic genius, but also a center of innovative cultural experiences designed to inspire and delight through the power of art.
This winter, Casa Batlló will dazzle you with a free light and sound show that will reinvent its iconic façade throughout the Christmas season. Below, we provide you with all the details so you can mark this event on your calendar and immerse yourself in the festive charm in Barcelona.
A music and light show to illuminate the winter season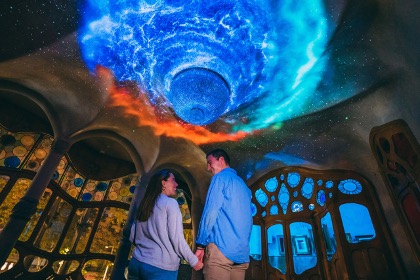 The dazzling light and music show, which will illuminate the façade of Casa Batlló during the winter season, will take place from November 17 to February 18. During this period, the event will take place every day, offering visitors a unique opportunity to experience this artistic fusion of light and sound.
From Monday to Sunday, the doors of the show will open at 6:30 p.m. to welcome the first visitors. For those who prefer a later night pass, the last entry will be available at 8:45 p.m. Each visit promises an unforgettable hour-long experience for all attendees.
Travel to the past of Casa Batlló thanks to this new visit that tells the story of how they lived 100 years ago
In addition to the fascinating light and sound show, Casa Batlló offers night tours that will transport you to the past of this architectural gem. In this multi-sensory visit, made up of surprising projections, special illuminations and augmented reality technology, you will be able to immerse yourself in the lives of the characters who inhabited the House during the last century.
The night tour, titled "A Winter Night", allows you to discover the most iconic spaces of the house through the people who lived there. In addition, the visit is enriched with surprising scenery that adds a magical atmosphere to every corner, allowing you to live a unique and intimate experience.
The renowned actor and director Mario Gas lends his voice to Juan Carlos, the great-grandson of Mr. and Mrs. Batlló. His narration will guide you through the daily life of the House, revealing fascinating details and intriguing anecdotes. This perfect guide will allow you to experience Casa Batlló from a completely new perspective, as if you were one of its former inhabitants.
Don't miss this unique opportunity!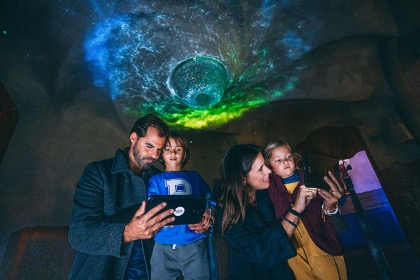 From November 17 to February 18, don't miss the opportunity to live a unique experience in Casa Batlló's Winter Tale. With limited capacity and a duration of one hour, this visit promises to be unforgettable, so we recommend booking your ticket in advance.
Additionally, for residents of Spain, a special 2-for-1 promotion is offered, providing a perfect opportunity to enjoy this show with a loved one. And let's not forget our little explorers: admission is free for children from 0 to 12 years old. So come and discover the magic of Christmas at Casa Batlló with the whole family.
New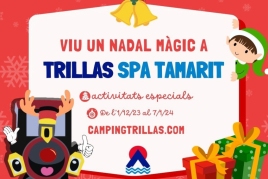 Càmping Trillas Spa Tamarit (Tarragona)
New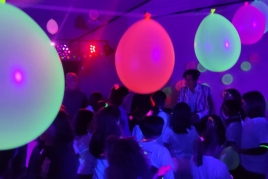 Càmping el Solsonès (Solsona)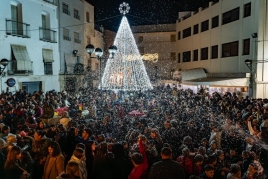 05/12/2023 - 06/12/2023 ...