Vilanova de la Muga Clown Fair
This event is over.
The Clown Fair of Vilanova de la Muga (Peralada) Clown Fair is back for another year!
A festival of clowns, clowns, music, circus and theater that fills the streets of Vilanova de la Muga. This festival was born with the aim of offering a diverse, stimulating and attractive program for all audiences and ages, making the figure of this character with a red nose and big shoes known.
Throughout the day different shows and workshops are offered, all of them related to the world of clowns, circuses and animation. With more than fifteen performances distributed in four stages you will be able to find the latest creations of the invited companies.
We wait for you!
Torroella de Montgrí - L'Estartit

(a 28.4 Km)
Enjoy magnificent cuisine and a stay with sea views, at the Restaurant…
Colera

(a 16 Km)
In Can Llissa we are defenders of the slow food philosophy and…
22/09/2023 - 25/09/2023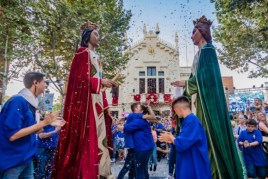 22/09/2023 - 25/09/2023