Tocats del pedal Camarasa
Sant Llorenç de Montgai
Camarasa
Contact
ylerget@gmail.com
eBikes
Pedal, enjoy and share
Discover and share pedaling adventures with friends, partner, family... The security, guidance, logistics, and support you need; it's up to us!
Immerse yourself in nature and experiences with your loved ones, doing health, at your own pace...
Discover the surroundings of the San Lorenzo de Montga Wildlife Reserve and the Camarasa confluence with family and friends. Go through the most unknown and wild corners and paths of the region of La Noguera. Visit fantastic little towns and enjoy their accommodations and gastronomic establishments.
You can even do our discovery and adventure routes for several days in the region, or if you are great adventurers, take part in one of our cycling trips around the world!
All our routes have the possibility of being combined with various activities, that's why we call them " Experiences "
Take a look at the possibilities of doing activities during the route that we offer, and tell us which ones you would like to do, we will propose an experience for you! ( Tour + Activities )
available activities

Visit Cave of the Bulls
Visit Central Camarasa
Possible combination with kayak or paddle surf (Camarasa Activa)
Wide options of catering establishments
Breakfast and visit "La Vaca Vegana" cereal production, orchard, and grazing cattle
River and lake bath, or pools
Escape Room San Lorenzo "King wanted"
Visit Montclar Castle
Escape Room Castell Montclar
Visit Montclar Mines
Visit Avellanes Monastery
Oenological visit to Avellanes monastery
Os de Balaguer bells museum
Visit Castell d'Os
Alòs de Balaguer Ichthyosaur Museum
Visit different Artisan producers of Hazelnuts and Os de Balaguer
Visit Sanctuary of Our Lady of Salgar
Cultural activities or restaurants in Ponts
Guided route through the paintings of Penelles
Wine visit to Castell del Remei
Ivars pond environmental visit
Ornithology
Visit and workshop of Arbeca cosmetic products
Visit and Arbeca organic oil production workshop
various geocaching
What we offer?
Rental of suitable quality eBikes on the ground. Together with safety equipment and material transport.
Guided or self-guided routes. You can be accompanied by a guide from the area or have intuitive software for your personal use to follow the route and obtain information.
Rental of accessories to take our little ones, individual seats, trailer for two children.
Assistance for mechanical or health problems.
24 hour telephone assistance.
Accommodation logistics and refreshment points.
Transport of luggage between accommodations.
02/12/2022 ...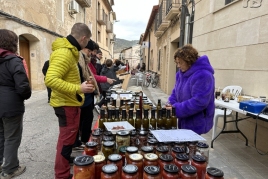 11/12/2022