Carrer de Padilla, 353
Barcelona
Contact
barcelona@therombocode.es
The Rombo Code is an escape room in Barcelona, located very close to the Hospital de Sant Pau and the Sagrada Familia. With its 6 rooms, the escape room has a capacity of up to 36 players per session, which makes us one of the best options to come with large groups of families, friends, schools or companies.
If you want to get the most out of your brain and enjoy solving puzzles and tests to get out of the game, read on to find out the best options for your case.
Up to 12 players, Competition Mode (Rombat): 2 teams, 2 identical rooms and 1 single winner. Only for the bravest. Adrenaline and fun at its best with this proposal in which, in addition to fighting against the 60 minutes to leave the room, you will do so against the other team. This modality is available in 2 of our games, which are The Last Show and Casanova- Barcelona's escape. These are dynamic games with lots of tests that make them perfect for large groups. The star product of the Rombate, it is only suitable for those capable of withstanding the pressure of being defeated by their own group of companions.
Dalí's Ark: The Rombo Code takes us to the coast of Cadaqués to recover a lost painting by Dalí. If you want more details, you must put on your life jackets and get on the zodiac... only the best crew members will be able to get it. Game with capacity from 2 to 6 players.
Behind the Mirror: Have you made a room without locks? Well, if not, you will have to come and put your wits to the test. The challenge is double, since the objectives are not clear and that is why it is a special game. It is the most complicated challenge, but not impossible, for teams of between 3 to 6 people.
All our games can be adapted to groups of young escapists, since from the age of 9 we accept groups of small children so that they can play alone with our help. Without elements of fear or inappropriate for them, our monitors guide the session from inside the room to guarantee an experience that they will always remember and with maximum security.
activities for schools
We currently have several rooms in our facilities (near the Sagrada Família) and a common space of about 50 meters, so we can serve groups of up to 42 students every hour. With the group that is not playing, we carry out an optional complementary activity in the common area, depending on the age of the students, directed by our monitor.
Other groups choose to go to a nearby park and the teachers prepare some dynamic on their own.
We have 4 specific themes for schools:
Casanova, the escape from Barcelona: set in the office of a researcher who was investigating Giacomo Casanova's visit to Barcelona in 1768. This room has the particularity that it is duplicated, which makes 2 groups of up to 7 participants each, they play the same game.
Dalí's Ark: Our latest and greatest theme game, all about the search for a lost painting by Salvador Dalí.
Behind the Mirror: it is the only game that lacks a "cultural" theme and its differential point is that it is a completely technological room in which there is no lock.
"The Last Show": set in a theater, it is a very dynamic game that combines the latest technologies with more classic tests.
The base game lasts about 60 minutes, although with the initial explanation, exit and photos it is usually 1h 30min; about 3 hours if we talk about a double shift with additional activity.
There is no element of fear or inappropriate for children, and we normally work with children from the age of 9.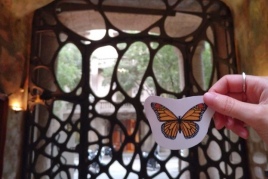 04/02/2023 ...

10/02/2023 - 12/02/2023