Deal! Visit to the giants of Solsona
Solsona, a giant experience! Live a unique experience visiting the exhibition of the craziest giants in Catalonia: Lo Cal Boig. Did you know that the giants of the carnival are a parody of the giants of the Fiesta Mayor? Enjoy a family day discovering the Fiesta Mayor and Carnival through its giants. Activity suitable and recommended also for children under 3 years. Once the guided tour is over, you will have free time to enjoy and interact with the Crazy Giants of Carnival as a family.
Now enjoy a 20% discount by applying the giant femturismo code in the general rate of the Visit to the Solsona giants. Offer valid on all purchases made until 12/31/2022.
Solsona Experience organizes this activity with the collaboration of the Solsona Carnival Festival Association and the Solsona Carnival Colla Gegantera.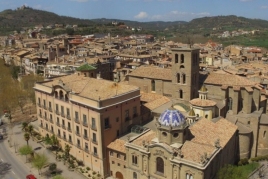 16/07/2022 ...