Serveis Marítims Mementos L'Ametlla de Mar
Ctra del port s/n de L'Ametlla de Mar i Port de Calafat
L'Ametlla de Mar
Contact
mementossfm@gmail.com
We are a small family business with a lot of professionalism in the nautical sector, which is basically dedicated to making tourist routes with different boats for the Costa Dorada, the rental of sailing or motor boats and all kinds of events related to the sea.
Located in the fishing village of Ametlla de Mar, in our company you will find different boats.
Our clients will be able to enjoy different activities from a magnificent walk along our impressive coast, visiting sea caves, paradisiacal beaches and even doing sport fishing, of course always with the best company and making the stay in this town have an adventurous point.
We also have a small beach bar at the same port for people who do not like to sail can wait for their loved ones while they do the activity having a soft drink or ice cream with our company.
Delphia 29 boat
Our sailboat is a Delphia 29, it is a very compact boat designed specifically to provide maximum performance for coastal trips, while combining superlative nautical properties with space and safety.
Our Delphia 29 offers us a comfortable space for the crew of up to 6 people. The practical gallery, the beautiful saloon and the amazing big head are the strongest benefits of this boat. Smart wood concealed cabinets, shelving, and drawers provide plenty of storage space, making this yacht truly practical and comfortable to pass the time.
Westeros Wind Boat
A small sailboat with a capacity of 6 passengers, for sailing lovers
Nereo Third Boat
A magnificent motor catamaran with a total capacity of 11 passengers.
Tast 30 boat
With hundreds of units sailing virtually all the world's seas, our TAST 30 is emerging as the best fishing catamaran in the world. Within the lengths of around 10 meters, our TAST 30 was a leader, both in number of units sailing, as well as in spaces, benefits, utilities for fishing, power and strength, constructive simplicity, etc.
It is a boat made and designed to fish, to work, to have stability, to have security, to have space both in the cockpit and on the entire deck... it is to enjoy countless days of fishing enjoying space everywhere. With a combat chair, with a central table in the bathtub, with a refrigerator in the bathtub, with a large nursery in the bathtub, with a huge anchor well and an exaggerated head drum, with large and comfortable corridors around the entire deck, which they allow you to run, walk and fish loosely around the entire boat (walkaround)... with whatever you want to put on, since you will always have room for everything.
With a large living-dining room, with cockpit, pica, large sofa and a strong and wide table... Our TAST 30 offers us a comfortable space for the crew of up to 12 people.
Mementos Maritime Service expects you to enjoy its activities and be part of an adventure that you will surely remember forever.
We wait for you!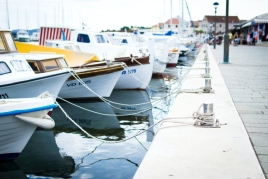 02/06/2023 - 04/06/2023