Sea & Mountain Experiences Sant Cugat del Vallès
Contact
info@smexperiences.com
At Sea & Mountain Experiences they carry out all kinds of mountain activities, from hiking (trekking), via ferrata, canyoning, climbing, snowshoeing, kayaking, adventure trips, sailing trips and endless adventures to discover.
Tours for private and shared groups.
Team building for companies, events and incentives.
Programs for schools and white weeks.
Tailor-made activities on request. Private transport.
Via Ferrata
There are via ferratas for all levels, although the most popular is an easy via ferrata in Barcelona for children and beginners. Our company still offers via ferrata of all levels through the most beautiful places in Catalonia, to choose between Barcelona, Lleida, Tarragona and Girona. These are some of the most emblematic via ferratas in Catalonia with different levels of difficulty.
Canyoning
You will be able to make the best ravines throughout Catalonia with the best canyoning guides.
Climbing
They carry out rock climbing courses with the best professionals in the guild that guarantee the safety of the activity and of all its participants, regardless of the level of the members.
Trekking and hiking routes
You will be able to visit spectacular areas within all of Catalonia and part of Spain, cross rivers, waterfalls, walk walkways and trails, and reach Pyrenean peaks with panoramic views. You will meet new people and you will be part of our community of hiking groups doing the best hiking trails in Spain.
Snow rackets
Catalonia and the Pyrenees in particular offer incomparable landscapes and long slopes to enjoy wonderful excursions with snowshoes.
create your own adventure
If you have your own idea or want to go to a specific place, tell us where and when and we will schedule an experience for you.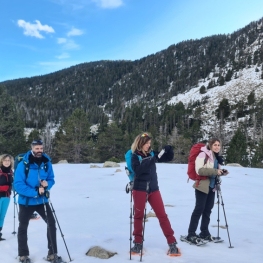 Sea & Mountain Experiences Sant Cugat del Vallès
Don't miss this New Year's Eve in the snow! We return to the Pera lakes! This end of the year we celebrate it in the snow. We will go snowshoeing through the subalpine…