Restaurant Skyfall L'Hospitalet de Llobregat
Contact
info@skyfallbcn.com
Get to know the experience of being at the top of the city. Cocktails and gastronomy in a unique and exclusive space. The only Cocktail Club with 360º views of Barcelona.
Skyfall Barcelona is a new cocktail club in the city of Barcelona, located in one of the most unique spaces in the city.
Its location is very emblematic in the city of Barcelona as it is located on the 29th floor of the Hyatt Regency Tower hotel in Barcelona, in the "UFO" that can be seen from all over the city.
Skyfall proposes a space designed by and for cocktails that mixes with gastronomy in terms of service and production of cocktails.
You can taste a large number of flavors designed for the most select palates.
At Skyfall they have thought of everything, that's why they open at sunset and close when night falls. In this way, they take advantage of the spectacular nature of the space at the highest level, since the place has one of the best sunsets in the city and at night, it offers an incredible light show.
Schedule
From Sunday to Thursday from 8:00 p.m. to 3:00 a.m.
Friday and Saturday from 8:00 p.m. to 5:00 a.m.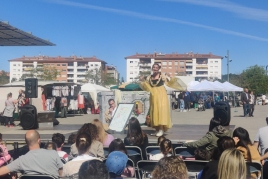 07/10/2023 ...

07/10/2023 ...