Restaurant Jardinet d'Aribau Barcelona
Carrer d'Aribau, 133, Barcelona
Barcelona
Contact
info@jardinetaribau.com
Lunches, dinners and cocktails in a charming fantasy garden under the treetops. This is possible in the Jardinet d'Aribau, a unique and unrepeatable space in the center of Barcelona.
The Jardinet d'Aribau is the ideal restaurant to celebrate a dinner with friends! The perfect place to meet and catch up, to enjoy an extraordinary menu or to have a romantic dinner with our partner... To laugh and make plans, as well as, of course, have a drink (or two) surrounded by our nature fantastic. Looking for a way to brighten up your routine? Well, book a table at the Jardinet d'Aribau and you'll experience an oasis of sensations.
Romantic dinners and cocktails in Barcelona
Enjoy a green environment in the middle of the city, where nature makes its way! And for after dinner, discover our fantasy cocktail bar full of magic, with a fusion of flavours, aromas and colours.
At the Jardinet d'Aribau they are specialists in carrying out equator steps, romantic dinners, graduation dinners, debuts, corporate events or business dinners.
Do not wait more. Go try their dinners and cocktails and spend the magical night at the Jardinet Aribau, they have menus for groups, vegetarians and vegans.
Organize your event at the Jardinet d'Aribau
On the other hand, if what you are looking for is to be able to hold your private event, private parties, birthdays, communions or even steps from Ecuador, Jardinet d'Aribau is the right place for this type of celebration.
Although they are specialized in the union of dinners and cocktails, they also put their 15 years of experience in the events sector at your service. They are specialists in creating synergies and gaining trust with clients. They adapt to all your needs and what's more, they do it the only way we know how. They get involved and create the events as they would like and always hand in hand with the clients.
They want to make this fact clear in each of the events they hold, which is why there are many who have already trusted Jardinet d'Aribau and BN Grup. Companies of the stature of Nokia, PWC, Samsung, among others, have benefited from this trust and today continue to create events and opportunities hand in hand with companies of this caliber.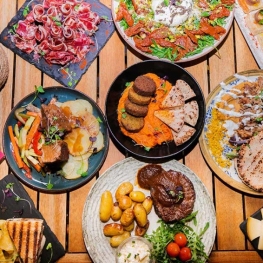 Restaurant Jardinet d'Aribau Barcelona
Saturdays and Sundays are different days, that's why we propose a simpler menu adapted to all budgets, with everyday and simple dishes to have a good time. The…
02/12/2023 ...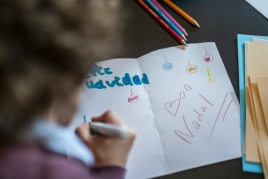 02/12/2023 ...