Restaurant Alquimia Barcelona
Carrer d'Aribau, 77, Barcelona
Barcelona
Contact
info@alquimiabcn.com
The alchemists yearned for eternal life and infinite knowledge. To do this, three disciplines were echoed: the mixture of elements ( chemistry ), the study of feelings ( philosophy ) and the observation of the stars ( astronomy ). Alquimia Barcelona unites these three pure concepts in the best possible environment.
Come and dine in Barcelona in this incomparable setting. BiGquinis of author and classics with exceptional products from all corners of the world, collecting the best of each culture. At the end, enjoy its signature cocktails and a modern atmosphere until late at night, a restaurant in Barcelona that will not leave you indifferent.
Mediterranean-flavored dinners
Alchemy is transformation and they are not going to be outdone, which is why they adapt their cuisine to trends, taking into account the tastes of customers and new gastronomic routes.
They have changed their menu a bit and in addition to the bigQuinis, already well known, they have introduced their point of view of the Mediterranean diet. With quality dishes and local products.
Cocktails with planetary chemistry
Astronomy is the study of the universe and the stars, the alchemists were among the first to study it.
They offer you a search for primary and secondary flavors through cocktails and especially through astronomy.
A universe of sweet, salty, bitter and acid tastes, which come together in a selection of 9 signature cocktails, inspired by our solar system and its planets. A fantastic way to explore the universe from the perspective of an alchemist interested in searching for the truth through a telescope.
Without a doubt, the cocktail bar is a fantastic way to complete your dinner and if you also know its galaxy, much better!
A story behind each "BigQuin"
A good restaurant in Barcelona must take into account that each food has a provenance, each dish a story and each recipe an illusion.
We are what we eat and we are what we have learnt, so at Alquimia Barcelona they unite philosophy, history and cuisine to present something as basic as a Bikini to another level. The level that gives you understanding in these fields and the illusion of being surprised with something you would not have imagined.
Winking at different areas of the world, they offer you a variety of different bigQuinis, bigQuinis for good palates and for all budgets, lose yourself in the infinity of details of the place and help them to make the experience complete by interacting with the surprises that you will find.
Complete your bigQuinis with a menu of snacks, salads, desserts and very astronomical signature cocktails.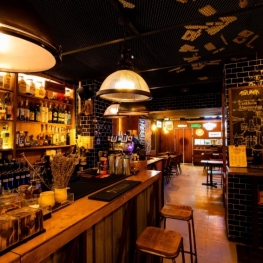 Restaurant Alquimia Barcelona
All you can drink! At ALLQuimia we like to give meaning to our premises. That is why we seek to give the experience a twist and return to the beginnings of Alchemy.…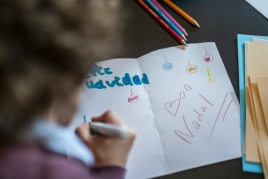 08/12/2023 ...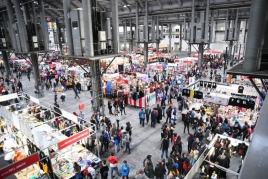 07/12/2023 - 10/12/2023