Museu Arqueologia de Catalunya Barcelona
Passeig de Santa Madrona, 39-41
Barcelona
Contact
macvisites.acdpc@gencat.cat
The Archeology Museum of Catalonia (MAC) is a national museum made up of a headquarters in Barcelona, one in the monastery of Sant Pere de Galligants, in Girona, and three essential archaeological sites: the Greco-Roman city of Empúries in Castelló d'Empúries, the largest Iberian city in Catalonia, in Ullastret, and the monumental complex of Olèrdola. The MAC aims to teach, question, surprise and excite its visitors. It presents and preserves the largest archaeological collection in Catalonia, both for the number of items preserved and for their diversity. It also integrates two research centers, the Center for Underwater Archeology of Catalonia (CASC), a pioneering team of archaeologists, divers and researchers in the Mediterranean, and the Iberia Graeca Center.
The Barcelona headquarters is located at the foot of the Montjuïc mountain, one of the green lungs of the city, and houses the central services of the MAC. It is a unique enclave where the past and the present can be enjoyed at the same time, a historicist-style building, built -like others in the area- as a result of the 1929 International Exposition. It offers a permanent exhibition that takes a trip to the roots of our civilization. In 2023, it presents, especially, the temporary exhibition 'Shipwrecks. Submerged History', which includes the findings, treasures and research carried out by the CASC for 30 years. The Greco-Roman city of Empúries combines the characteristics of a conventional museum with those of a museumized site, located in one of the most fascinating places in the entire western Mediterranean, a magnificent Greek city. It preserves the statue of the god Asclepius , from the 2nd century BC. Which is the most important Greek work of art found so far in the Peninsula. And also exceptional Roman mosaics such as the "Sacrifice of Iphigenia", from the 1st century AD. For lovers of the Iberian world, Ullastret, in the Baix Empordà, presents us with the largest Iberian city in Catalonia: the Puig de Sant Andreu is a mandatory stop. The oldest texts in the Iberian alphabet have been discovered there, some of them dating from the 5th century BC. The Olèrdola headquarters is also a museum site. This is the monumental complex of the Castle of Olèrdola, which integrates remains that go from prehistory to the Middle Ages. Finally, the MAC headquarters in Girona presents an exhibition located in the church and the Romanesque cloister of the former monastery of Sant Pere de Galligants. The interest of this site is twofold: on the one hand, it is a monument steeped in history and, on the other, a center where memory, art and culture can be experienced at the same time.
The MAC is, therefore, a benchmark in the conservation of our archaeological heritage and a place to discover our ancient history. Heritage, museographic innovation and the programming of activities in a unique and friendly environment go together to place it among the most outstanding cultural destinations.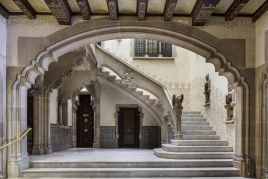 25/03/2023 ...