Mirador torre Glories Barcelona
Avinguda Diagonal, 211
Barcelona
Contact
info@miradortorreglories.com
Dare to look at Barcelona like never before from the new Torre Glòries viewpoint and enjoy an unprecedented experience that reveals a Barcelona never seen before.
The Torre Glòries Viewpoint, located in the old Torre Agbar, is a different viewpoint; It is a new type of observatory that allows us to get to know Barcelona with a new look. As if it were a new form of telescope and microscope, the Glòries tower viewpoint reveals our non-human neighbours, the daily dance of all their systems and infrastructures, the celestial bodies and the satellites that cross our sky, our sea and its surroundings, the activity of the port, the sounds of the city... and all in real time! A surprising way of presenting and understanding the city as an intertwining of natural, social and technological forces.
The visit begins with the Hipermirador Barcelona exhibition space, on floor -1, where we discover a viewpoint without windows. A vision platform that reads and amplifies the urban pulse, to observe Barcelona beyond the city that we see at first sight, to understand it as a living being with a heartbeat that defines our way of inhabiting it.
Based on big data instruments, which collect data from urban systems in real time, and spectacular installations that combine art, music, technology and large-format audiovisual productions, the Hipermirador is a discovery platform that invites us to look at Barcelona with new eyes.
The visit continues on the 30th floor, at the Mirador, 125 meters high and in the middle of the Barcelona that Ildefons Cerdà projected. A unique 360° panoramic view of the city allows us to enjoy it in all its magnitude and splendor. From there, a new physiognomy of the city and the landscape can be discovered from it: the entire coastal mountain range, the Vallès, Maresme, Baix Llobregat, the immensity of the Mediterranean Sea and, for the most observant, even Montseny. The experience on the 30th floor can be complemented with contemplation of the large sculpture Cloud Cities Barcelona, the work of the artist Tomás Saraceno. It is his only installation in southern Europe and, suspended from the dome with more than 6 kilometers of steel cables, 1,200 panels and 60,000 kilograms of tension, allows us to walk through its interior and feel the interconnections that define the urban system of Barcelona.
Come to the Torre Glòries viewpoint and dare to look at Barcelona like never before!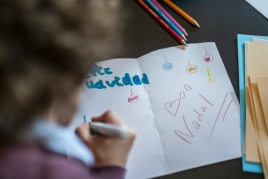 06/12/2023 ...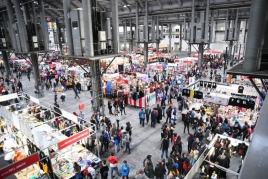 07/12/2023 - 10/12/2023