Macba, Museu d'Art Contemporani de Barcelona Barcelona
Plaça dels Àngels, 1
Barcelona
Contact
macba.touristcheck@gmail.com
Enjoy the best contemporary art at MACBA, the Barcelona Museum of Contemporary Art, a benchmark in all of Europe.
Located in the Raval neighborhood, at MACBA you can explore art with a different vision, which will not leave you indifferent. Located in a cultural plaza that includes a Gothic chapel and the iconic Richard Meier museum building , the permanent collections (with thousands of works) and temporary collections of reference and new artists.
A space for art and culture
The MACBA wants to provoke enjoyment and interest in contemporary art and culture from a will and a transformative impact on people and society.
A space for discovery and collective knowledge in the city center (very close to Plaza Cataluña)
A collection with iconic works that bear witness to the key moments in the history of art, culture and society of the last century.
A program of exhibitions and activities where common experiences and learning are shared through the transgressive and courageous looks that art offers us.
An inspiring place to learn, experience and enjoy contemporary art that never leaves you indifferent
Download the application from the web and don't miss a thing with the free audio guides
Don't miss the views from the terrace in Plaza de los Ángeles, a must for international skaters
Schedule
Monday to Friday: 10:00 a.m. - 8:00 p.m.
Non-holiday Tuesday: Closed
Saturdays: 10:00 a.m. - 8:00 p.m.
Sundays and holidays: 10:00 a.m. - 3:00 p.m. *
Closing days: January 1 and December 25. On December 24 and 31 the museum closes at 6:00 p.m.
23/09/2022 - 26/09/2022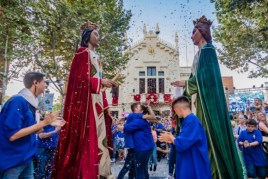 22/09/2022 - 26/09/2022