Globus Barcelona Barcelona, Blanes, Colomers, Vic
Contact
info@globusbarcelona.com
Balloon fly in different areas of Catalonia. Choose where you want to fly in a balloon, each season has its appeal. Discover the magic of a balloon flight balloon Barcelona. The flights are made early in the morning as it is when weather conditions are calmer. It's lovely to see the sun rise from a balloon. In winter the appointment is at 8 am in summer and at 7am. Anyone can give a balloon ride Catalonia and enjoy the experience, except pregnant women and children under 5 years, since despite being a very quiet activity, a precaution not fly in a balloon. A balloon flight by Catalonia is an unforgettable gift for a birthday, Valentine's Day, Christmas or any other special occasion.
Activity
We are early in the morning to participate in the assembly and inflation of the balloon.
We flew for an hour and a half having always in mind that the itinerary we mark the wind.
Barcelona Balloons 4x4 overland follows us and comes to find the landing point. Companions can follow us with your vehicle.
We said goodbye with breakfast, toasted with champagne and give you a flight certificate and photos of the day.
Flying sites
Costa Brava - Baix Empordà: take off the village of Colomers, next to the River Ter, and contemplate during the flight line of the Costa Brava, the Massif Montgrí with its castle, the Medes Islands, the Bay of Roses, and medieval towns like Ullastret, Foixà, Peratallada, Púbol, Virgin or San Martin de Ampurias.
Osona - Vic: Vic We will meet in front of the Hotel Can Pamplona. During the flight we will have spectacular views of the entire plain of Vic, in the Osona, and sometimes see the Montseny and the Pyrenees and villages in the area Sant Julià de Vilatorta, Tavèrnoles, Roda de Ter and Santa cecília of Voltregà.
Girona (exclusive balloon flight for group of 8 people): The meeting point is in the Cup, a privileged off to enjoy the best views of the city from the first minute.
Flight Type
Traditional flight: the flight is always a flight shared in a basket for 8 passengers globe.
Holidays Flight: The balloons, for its majesty and magic will always be a differentiator in any festive event.
Incentive Flights: Flights and travel globe as business incentives.
Flights Advertising: Globe Barcelona offers you the opportunity to have a representative balloon advertising your brand or company.
Exclusive for 2 people: If you want something more intimate and private you can hire an exclusive flight for 2 people. In standard flights usually we fly 8 passengers.
Exclusive for 4 people: If you want something more intimate and private you can hire an exclusive flight for 4 people. A flight just for a bit, to treat yourself to a balloon flight in luxury, in a basket equipped with comfortable seats, visibility beyond what has been seen so far and appetizer and champagne during the flight. An exclusive and unique experience.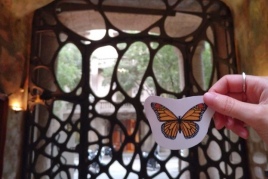 04/02/2023 ...

10/02/2023 - 12/02/2023