Escape Hunt Barcelona Barcelona
C. Nàpols, 255, bis
Barcelona
Contact
montsemontoto@gmail.com
Escape Hunt Barcelona - Escape Room - Discover the real stories of the Vampira de Barcelona, the Gaudí Mystery and the School of Thieves!
With free drink! You will enjoy a great experience in the largest Escape Room in Barcelona: 400 square meters, a large hall, a great vintage setting, 6 rooms, 3 games and all security measures!

All of the Escape Hunt Barcelona mysteries are based on real Barcelona cases from the early 1900s.
At Escape Hunt you will test their skills and teamwork. Can you solve the mystery before time runs out? Dare to put yourself in the shoes of the best detective, where to achieve the objective you will need all your ingenuity, intellect and most importantly, teamwork. Enjoy this great experience with your friends, family or company.

The venue has 6 game rooms and 3 different mysteries, with capacity for 34 people playing at the same time. In addition, there is an elegant and cozy hall, with a modernist atmosphere and a large capacity. The experience with us includes a free drink. You can also dress up as a detective and photograph our vintage photocall.

Do not miss this Escape Room in the cultural and historical key of Escape Hunt Barcelona!
From 7 years old.
All games are available in Catalan, Spanish, English and French.
The Vampira of Barcelona
He is in the terrifying house of Enriqueta Martí: the Raval vampire. Around 1913, many children disappeared.
What happened to them Can you still save some? Fortunately, a neighbor, Claudia Elías, called the police and said that she saw a little girl in Enriqueta's window, and she is sure that she has no children. The police told her that Enriqueta occasionally leaves her apartment for an hour to buy groceries. The police are not able to obtain a search warrant and for this they have asked you to investigate outside the law...
It is time to enter your terrifying apartment. Will you solve the mystery? Will you come out alive?
Gaudí's Mystery
It is located on the scene of the death of Antoni Gaudí: in 1926 he was hit by a tram on line 30 and was mistaken for a beggar. How is it possible? You must travel back in time and try to solve the mystery through its enigmatic buildings and more private spaces.
There are those who affirm that he was a Mason and kept a relic of great value... perhaps here is the key to everything! Only you can find the answers.
Thieves School
It is located in the scene of a famous robbery in a store on Platería street, around 1910, where nobody knew where they entered and fled the thieves. But they had suspicions of a well-known gang of children and their leader: in Tinyeta.
Will you have the courage to stop this group of youth thieves? You are the detectives who must track the thieves, discover their methods and find and find the loot in time.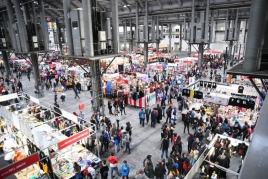 08/12/2022 - 11/12/2022