Ecomuseu Farinera de Castelló d'Empúries Castelló d'Empúries
Contact
informacio@ecomuseu-farinera.org
The visit to the Farinera will not stop surprising you! The Farinera Ecomuseu, a museum at your fingertips!
The tradition molinera of Castelló d'Empúries comes from old, when the town was the capital of the county and there were three flour mills that worked with the water of the ditch of the mill. Of these three mills, only one was preserved, already transformed into flour mill. Today, recovered by the municipality and converted into a museum, invites you to learn about the industrialization process of flour.
The visit offers a tour of the industrial spaces through which you can see the cleaning machines (which separate impurities from wheat), conditioning (which prepare the wheat to be ground) and grinding machines -with the impressive red mills -, true heart of the Farinera. From top to bottom and from bottom to top, in a complex vertical framework, wheat, flour and other products follow a circuit that leads them from one machine to another. To not get lost, enjoy the audiovisual accompanying the grain of wheat in its tour of the factory. For these machines, 20,000 kilos of wheat were passed every day! And before leaving, stop and make mention of the men and women who worked in the factory day after day. Capture the meaning and know-how of these people and these lands.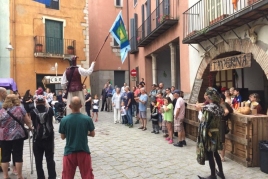 04/06/2023