CultRuta, Rutes per Barcelona Barcelona
Carrer d'Estruc, 10, local
Barcelona
Contact
reserva@cultruta.com
Thematic cultural routes of about two hours, to discover Barcelona in depth: historical anecdotes, little-traveled alleys, forgotten heroes, literature inspired by the city, fantastic legends, crimes, despised neighbourhoods...
Cultruta was born in 2008 in Barcelona, specializing from the outset in offering cultural leisure and tourism routes and services to companies, individuals and entities. We have focused on clients from Barcelona itself and its surroundings who want to rediscover the city in depth, in a dynamic and enjoyable way. We have grown, we have received awards, they have copied us, they have praised us... and with all this we have defined how we like to work:
pleasant visits
Walking routes through comfortable spaces and at a calm pace.
Each guide uses a microphone, and the assistants receive: total freedom of movement and discretion of the group.
Groups limited to 24 people per guide. More numerous are divided: proximity and respect for the environment.
Official guides on all visits to the city's heritage and/or history: legality and professionalism.
In this way, we guarantee a more original and enriching service than usual recreational activities such as the show or the tourist visit. It is also easily adaptable to the cultural level of each group. And in our case, while remaining affordable. All this has made us the leader and benchmark for cultural routes for individuals in Barcelona. It is a source of pride and at the same time, of responsibility to continue working on excellence.
We offer visits, routes and gymcamas throughout Catalonia. We prepare them from home and on the ground. We sell 24h through the website and other sellers of responsible and experiential tourism.
And yes, we also have a central office to interact in person, make faces and do business! We will be happy to welcome you and we can also rent the spaces for you!
Activities aimed at institutes, universities and schools
Do you want to go on an outing but the teachers can't organize it? Are you looking for really motivated guides with a different speech?
We organize educational and recreational routes at the same time, to carry out a day that the students will remember.
We understand the outing or activity as an experience that should allow students to live learning in a pleasant way, and at the same time useful for studies.
Registration Number in Tourism Register of Catalonia and Andorra: GT-2678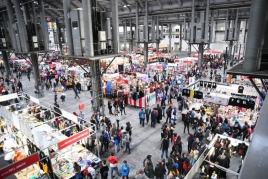 08/12/2022 - 11/12/2022