Guided visit to the Falset Marçà Modernist Cooperative
A journey through more than 100 years of history
In this activity we will discover together the secrets of the Cooperative, its surroundings and what makes it more special, its products.
The visit will allow you to get to know the Wine Cathedral designed by the architect Cèsar Martinell, a disciple of Antoni Gaudí, a building that encompasses practicality and beauty with more than 100 years of history.
Accompanied by our guides, we will learn about the Montsant Denomination of Origin, the characteristics of the environment and the qualities of the wines produced in this territory with so much history.
We will explain the vermouth and wine production processes while we discover the Cooperative building and we will end the visit in the best way, in the tasting room, where you can taste the vermouth and three other wines from the Ètim range.
Do not let them say it to you. Come find out!
Schedules
Wednesday and Thursday at 10:00 a.m. in Spanish and at 12:00 p.m. in Catalan.
Friday at 10:00 a.m. in Spanish and at 12:00 p.m. in Catalan.
For language changes (English or French) or schedules, consult 617929018.
* On Saturdays and Sundays we make dramatized visits.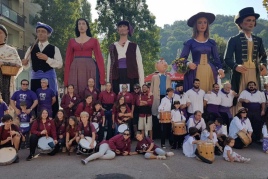 28/09/2022 ...

28/09/2022 - 29/09/2022 ...