Born Bike Tours Barcelona Barcelona
Carrer de la Marquesa, 1, Barcelona
Barcelona
Contact
info@bornbikebarcelona.com
They offer different guided bike tours through the city of Barcelona, ​​?? routes that meet ingredients that make it a different experience: History, Culture, Art, Food, Fun and Nature Barcelona to feel deep within you.
Dare and discover Barcelona by bike!
They are Barcelona and try to convey what they feel for the city, always with rigor and sympathy, a touch of humor and empathize with customers.
Tours
Bike Tour Gothic to Modernism
Beach Bike Tour
Bike Tour Montjuïc
Tapas Bike Tour (4 more caps a drink)
Tours à la carte
Bicycle Rental
You can also rent a bike from 6 €, for you to discover Barcelona at your leisure, cycling in Barcelona like it so much sure you will love. Enjoy it!
Also if you get accurate maps of bike lanes and recommend you shop, places, routes, points of interest?? the city.
Services
Bicycle Rental and Tours "Guided Tours" by the city of Barcelona. With different languages, available on the Web.
Activity type
Tours for groups:
Individuals
Families
Incentives
Schools
Travel agency
Business
Etc...
Timetable
Every day of the year 10.00 to 20.00 hrs. least 25 and December 26 and January 1
How to get
Metro: 50 meters from the "Barceloneta" station on the Yellow Line IV
Train: 200 meters from the station of France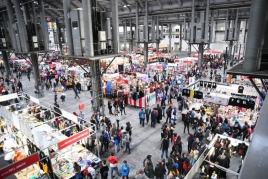 08/12/2022 - 11/12/2022