Balneari Titus Arenys de Mar
Contact
info@balnearititus.com
The Balneari TITUS is the establishment of sodium chlorinated water, closer to the sea throughout Catalonia, about fifty meters from the beach and only five meters above the panoramic mar.Vista
Its gardens, outdoor thermal pool and magnificent therapeutic facilities make it a privileged indeed resort in the heart of Maresme.
Facilities
The benefits of thermal waters are due to the existence of minerals in its composition. The passage of water through the various subsurface layers in which rocks are at high temperatures, produce the heating of the water.
In Titus Can put at your service our own facilities, where they found more sophisticated techniques, under the control of our medical team.
Indoor thermal pool
Outdoor thermal pool
Shower Vittel (underwater massage shower)
Circular shower
Hammam
Whirlpools
Pressure jet
Relaxation room
Inhalers
Vaporizers
Hall of hydrotherapy
Manilubios
Pedilubios
Jacuzzi
Massage rooms
Gym
The spa has more than 3000 m2 of gardens, outdoor thermal pool, gym and excellent therapeutic facilities.
Services
In the "Balneari Titus" we have the best services for your health.
Massage
Therapeutic and relaxation. General or partial. A whole range of services to achieve a perfect fitness of your body.
Wraps
Algae, mud, chocolate, argilas, body scrub ...
Electrotherapy
Infrared and ultrasonic currents.
Treatments
Musculoskeletal system, respiratory system, circulatory system, fibromyalgia, dietary-thermal, anti-stress.
Rehabilitation
Individual sessions with physiotherapist.
Complementary techniques
Muds, paraffins.
Back school
With personal trainer.
Packs
Thermal water circuit
Indoor
Hall of hydrotherapy
Spa
Pressure jet or circular shower
Charming thermal
Chromotherapy bath with exotic fruit salt
Mud pack white
Massage 20 '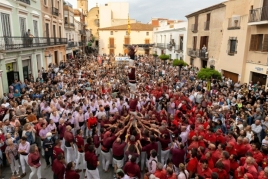 22/09/2023 - 24/09/2023

22/09/2023 - 24/09/2023