Retreat "Reconnect with your own nature"
When you know who you are, you will know everything
A weekend to connect with your own soul through nature. We will do holistic yoga, meditation, relaxation techniques as the first stage of healing to calm the mind or connect with our soul. In this transition we will do nature baths, fresh water baths, and forest baths to balance our health and well-being towards what we really want.
In a second stage, we will work on your core values according to your life purpose through the Ikigai technique, to reach your daily life with new goals and healthy habits to carry it out. September is a good time to rethink goals, challenges and a better connection with ourselves to live it, and what better than with the help of people who specialize in this.
What will I take from the retreat?
Health and spiritual and emotional well-being to start a new course with energy.
An ideal place to (dis) connect and enjoy the beauty of nature that surrounds you and who you are.
Fun learning new practices and different ways of being, living and doing your life.
Give yourself time to focus on yourself, on your yoga practice, awareness and inner growth.
Learn to be present and connect with the deepest and most real that is in you.
A life purpose -in case you haven't found it-, new goals and an action plan to carry it out.
Learn healthy eating and relaxation habits for your daily life.
Learn to love yourself, value yourself and recognize the talents and capacities that are in you.
Therapeutic guides:
Maria Rosa Blasco: Family doctor, graduated in nutrition, herbal medicine, homeopathy and acupuncture, yoga and meditation teacher, for more than 30 years she has been dedicated to the dissemination of related topics in the field of health, nature and spirituality.
Maria Pellicer: She is a biologist, environmentalologist, trained in spiritual values and meanings of Nature, Neurolinguistic Programming, Energy Medicine, Rebirthing and Coaching. Guide and accompany to improve the health and well-being of people through nature as a mentor, trainer, and teacher.
Location and accommodation: Mas El Negre (www.elnegre.cat)
A unique hostel in a unique place in Ogassa, Ripollès. It is located at an altitude of 1,000 meters, in an environment of exceptional pre-Pyrenean nature. You will be surprised by the natural beauty of the environment. You'll find beech, scots pine groves, oak groves and abundant boxwood. The Ogassa stream runs through the farm and from this fabulous space we will discover water heights, gorges and wells.
Consult the program of the retreat and more information in the link of the offer.
In case of doubts, contact Ànima de Natura, organizer of the event.
21/05/2022 ...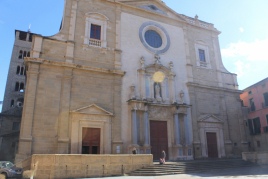 22/05/2022 ...